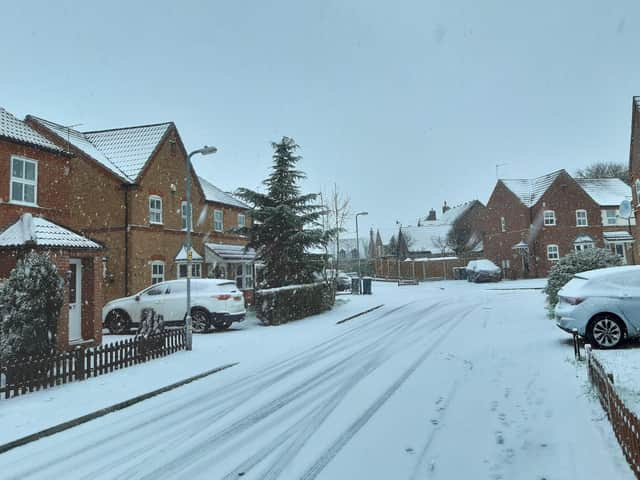 More snow falling in Sleaford this morning.
Big flakes are currently falling in the town and there are amber and yellow snow warnings for the county today, with more expected to fall overnight and tomorrow.
The north of the county is said to be worst affected with some roads on the Wolds already closed due to lorries struggling to climb hills. The rest of the county has had a less severe covering but sub-zero temperatures are expected for the next few days.
Vaccine and testing centres are currently all opening today in the county if people can get to them, but some schools that had been opening for key worker children are closing in the north of the county, Boston and Bourne, as well as Cranwell Primary Schools and St Andrew's Primary School in Woodhall Spa.
The county council's gritters have been out on two runs overnight and are just heading out on a third and people are advised against travelling unless necessary.
Lincolnshire Police said in the last few minutes this morning: "We have reports from officers that the A15 between Lincoln and Sleaford is quite bad and a number of cars have come off the road."
One motorists responded to the Twitter post: "I've just come in on the A15 from Sleaford to Lincoln, it's passable with care. Worst part is between Cranwell and Nocton Heath."
Lincolnshire Police had added: "Please take care out on the roads today and drive to the weather conditions. Since 7am we have had a number of road traffic collisions reported and incidents with vehicles stuck due to snow. "
Overnight snowfall in Sleaford.
At 8am they added that they have a number of reports of snow settling in lane two in both directions of the A1, drivers are passing with care.
The A158 – Horncastle to Partney road is closed, the A153 Louth to Horncastle closed, the A157 passable but HGV's stuck with a tractor on scene assisting between Wragby and Louth.
Lincolnshire County Council highways tweeted about their third gritter run saying: "Salt does not stop snow settling but does stop ice forming underneath and helps thawing with traffic flow. Please take care if you need to drive today."
North Kesteven District Council says there has not been enough snow to impact on bin collections so far. Conditions will be reviewed over the course of the day.
Due to the heavy rainfall from Storm Darcy over the weekend there are still flood alerts at Billinghay after the River Skirth overtopped between Billinghay and North Kyme and there are alerts along the Witham from Washingborough to Boston with low lying land flooded in areas near Short Ferry.
The Environment Agency said on Sunday night: "Heavy rain fell in the Witham catchment on Saturday. River levels have responded and will continue to remain very high for the next few days with further rainfall forecast. River levels are approaching record highs in places and we are already seeing overtopping and seepage through flood banks. Specifically we are seeing overtopping on Billinghay Skirth between Billinghay and North Kyme, and expect flooding of low lying land in the area. We also expect to see flooding on Causeway Road.
"We have undertaken sandbagging at lower spots and we are monitoring the situation very closely. We will reissue this flood warning if we anticipate flooding of properties. Stay safe and aware of your local surroundings, and please avoid contact with flood water. Our staff are out in the area to check the flood defences, clear blockages, and assist the Emergency Services and partners."