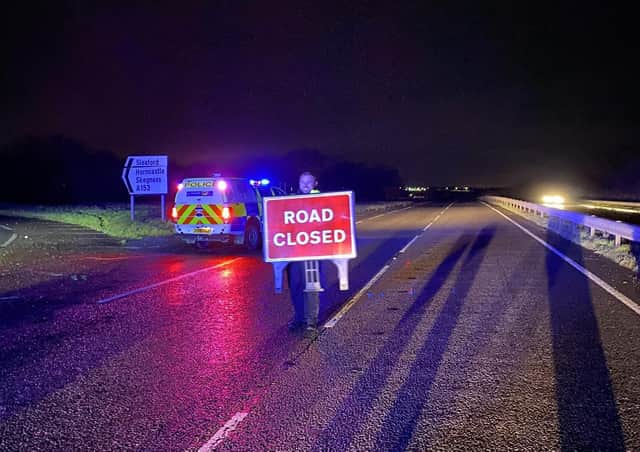 The A17 closed due to flooding overnight around Sleaford. Photo: Lincs Police Specials. EMN-201224-081638001
With the prolonged rain yesterday, Lincolnshire Police warned drivers of standing water on various roads around the county.
The A17 Sleaford Bypass between the A153 Bonemill Junction and A15/A17 Holdingham Roundabout was affected during the night and remained closed at 6am this morning due to the amount of standing water on the road affecting drivers.
It also led to a two-car collision.
There had also been police warnings about low temperatures turning the rainwater to ice on roads.
Lincolnshire Police added overnight: "We're getting lots of calls in relation to vehicles getting stuck or crashing due to the amount of water on the roads at the moment. The temperature is also set to drop which is likely to cause freezing❄."
There were also reports of localised flooding in areas. Lincolnshire Fire and Rescue Service said overnight: "The Control Room are dealing with a very high numbers of calls for flooding in the south of the county. Due to high demand we are having to prioritise our response to flooding calls and can only respond to them where there is a risk to life or the water has entered the property."
Elsewhere the A15 has been closed at Bourne this morning after flooding through the town on a number of streets.
Motorists were warned to avoid the area after localised flooding on the A17 Sleaford bypass blocked the road eastbound. Photo: Lincs Police Specials EMN-201224-081649001
A section of the northbound A1 has also been closed due to flooding near Peterborough as Cambridgeshire police warned drivers of large areas of standing water on many of the region's roads.
Highways England said this morning (Thursday): "The A1 is closed northbound between the A1(M) (Norman Cross) and the A47 (Peterborough) due to flooding. Cambridgeshire police are in attendance.
"Delays are likely on approach to the closures, with additional journey times also expected on diversion routes."
There are also reports this morning of an accident on the A1 near Peterborough northbound between the A1139 and the junction with the A47.
The flooded A17 around Sleaford resulted in this serious collision. Declan Corner's mother and father in law both suffered minor injuries but are now home. EMN-201224-125813001