VIDEO: Storm Babet – Businesses and properties close as flooding hits Ruskington
Businesses are being forced to close on Ruskington High Street after the Beck which runs through the centre of the village overflowed.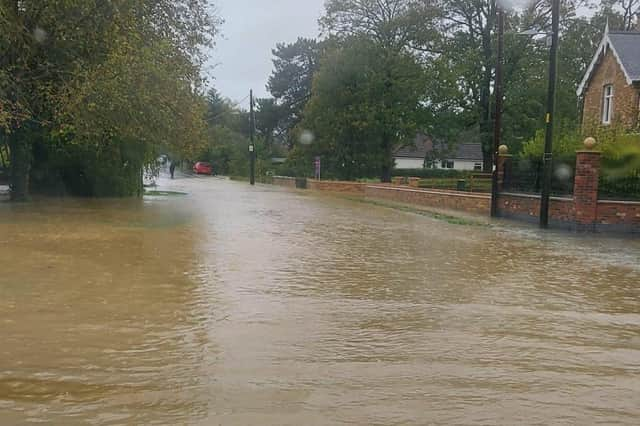 The sustained rainfall brought by Storm Babet has continued to bring disruption to the Sleaford area, as well as other parts of Lincolnshire with Flood Warnings issued by the Environment Agency this morning stating that flooding was expected.
This afternoon the rising waters overtopped the banks of the Ruskington Beck, flooding the High Street and Chapel Street.
Sophie Hare, owner of Hare and Beauty salon on the High Street said they have been forced to close due to the rising waters flowing into their shop.
She said: "We have taken our shoes off and are going around in bare feet in the salon as it is completely flooded downstairs. The water is coming in through the skirting boards.
"I would guess every shop on the High Street is closing as well.
"It is just annoying as we will lose income and the carpet and lots of products and people's things are ruined."
She had been grabbing lots of towels to try and mop up but the sandbags at the front door were having little effect and they opted to shut down before they became marooned as the street was under water.
Sophie issued a video on the firm's Facebook page announcing the closure saying: "People are asking me why I'm so calm but what can you do!"
Ruskington Methodist Church issued a statement on Facebook after Chapel Street flooded. They said: "Please pray for the people of Ruskington and others in the country affected by today's weather. Beck has well and truly gone over and some homes and businesses have been devastated. Huge thanks to those who have just helped to sandbag the church entrances, and to all those in the village pulling together to help each other. Absolutely amazing community spirit."
Elsewhere the staff car park was flooded at Pilgrim's UK food processing factory in Ruskington but the business was continuing operating at the moment.
The Environment Agency warning states: "Please take action to protect yourself and your property and monitor local weather and river conditions. Avoid contact with, walking or driving through flood water."