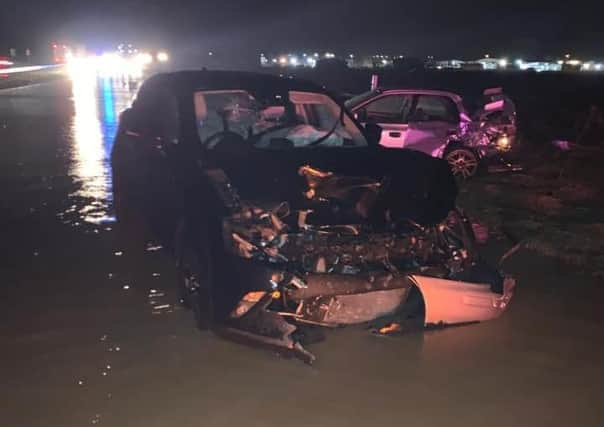 If you are concerned about flooding in your area, they issued a number of useful numbers you need to know.
Fallen tree on road or footpath - 01522 782070.
Flooding in your area - 01522 782082.
Dangerous trees or flooding - 101.
Power cut or damaged power lines - 105.
The environment Agency also issued a number of Flood Warnings overnight which are still in force.
Flooding was expected around isolated properties and villages in the area of Horbling, Billingborough and Pointon, near the South Forty Foot Drain and its tributaries and around the Swaton Eau in Swaton.
The Agency stated: "Heavy rain has been falling on the South Forty Foot catchment over the past 24 hours causing river levels to rise. The rising river levels have already caused flooding of low lying land and roads in the catchment, and roads in and around Swaton. Due to the deteriorating weather conditions they expected properties in Swaton to be affected overnight.
They added: "Low lying properties near the river are most at risk. The river is forecast to continue to rise with the impacts likely to last through the day. Remain safe and be aware of your local surroundings, and avoid contact with flood water. Avoid riverside paths and please stay away from river embankments.
"Our staff are out in the area to check the flood defences, clear blockages, and assist the emergency services and council. We will be closely monitoring the situation, and this message will be updated during the day, or as the situation changes."
Flooding was also expected overnight around Ruskington Beck in Ruskington and had already caused flooding of low lying land and roads in and around Ruskington. They said low lying properties near the river were most at risk.
There was also a Flood Alert in force for tributaries of the lower River Witham from Blankney to Sleaford.
Flooding was possible for tributaries including Billinghay Skirth, Ruskington Beck and River Slea including Blankney, North and South Kyme, Ruskington and Sleaford.