Snow is falling fast this morning (Friday) and quickly coating Sleaford in a blanket of the white stuff on roads and pavements and according to forecasters the snow may lead to tricky travel due to surface water and possible slushy accumulations.
Spray and surface water on roads may make journey times longer, bus and train services may be affected with journey times taking longer.
They warned that snow may be briefly heavy in places, reducing visibility and leading to slippery surfaces.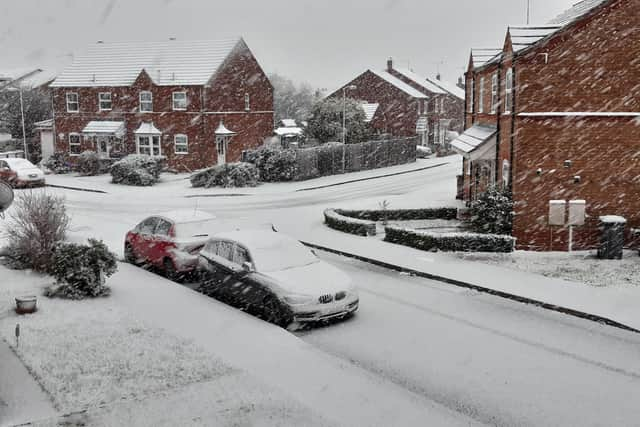 Temperatures are forecast to stay near freezing for much of the day, and driving conditions will be treacherous, especially on untreated roads, and motorists are urged to take extra care today.
Last night Lincolnshire Highways had tweeted: "Road Surface temperatures are not forecast to fall below +1.8 tonight so no gritting planned. There is a chance of a little sleet/snow in some areas but not enough forecast to cause any problems."
However, a Lincolnshire Highways spokesman this morning said: "This morning's snowy weather has not taken us off guard – we are watching our systems at the moment. We have a snow cloud moving over the county at the moment – particularly in the south – and this will put some snow down, but temperatures will mean that it will quickly melt off the road. If the situation changes, we are ready to react as always.
"It is worth reminding drivers that there are tricky driving conditions on some roads this morning, and they should take extra care.
"Looking ahead, tonight is going to be a very different story. With all the water around and temperatures falling to -3 in some areas, there is going to be a lot of ice early on tomorrow.
"Drivers need to take care if out overnight and into tomorrow morning – particularly on untreated surfaces. It should start to clear from 9am onwards tomorrow.