Sea Of Light is a mesmerising installation, an enchanting mix of sound and light that washes across the landscape in shimmering waves, writes Graham Walker.
The vast artwork, created by sound and light specialists ITHACA, was used to surround Coldplay's Pyramid stage set in the absence of a live crowd during the pandemic at Glastonbury.
It now laps against the side of Belton House – a stunning penultimate highlight at the fourth annual festive lights trail in the National Trust's beautiful grounds in Lincolnshire, now open on selected nights to January 1, 2023.
BUY TICKETS: A timed entry system is in place and with popular weekend and early evening time slots set to sell out fast. It opens 4.30pm to 10pm, last entry at 8pm.Guarantee your tickets - CLICK HERE.
WATCH: Check out our Facebook Live stream for more video and all you need to know about the trail – CLICK HERE.
Belton House grounds are again transformed into a winter wonderland, brought to life after dark with more than one million lights, candles, projections, lamps and lasers.
And from start to finish this year's after-dark trail really is blooming magical.
First up is a rose garden like no other.
Thousands of handmade roses, crafted with white silk petals, burst into dazzling patterns of animated colour-changing lights as visitors enter this year's after-dark trail.
The Rose Garden, by Mandylights, is the jaw-dropping view in front of the orangery.
More international artists than ever before are represented at Belton this year.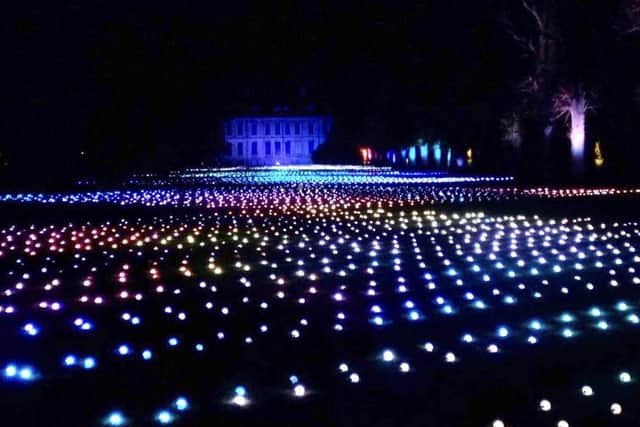 Other breathtaking highlights on the new look trail include the nautically inspired Voyage, strings of glowing colourful origami shaped boats floating gently on Belton's pond by Italian collective Aether & Hemera.
Look out for the awe inspiring Cascade tree, dripping with silver lights, and watch is amazement as the Fireflies zip around the trees and appear to bounce off the ground.
The new route also brings the 17th century house into the heart of the trail, with the Belton House Show projection on to it becoming the showpiece to give audiences a different perspective of the iconic, much-loved building.
Independent street food vendors will be at the event. Visitors can complete a walk under the stars with a spiced winter warmer or hot chocolate shared with friends and family, along with other treats such as toasted marshmallows.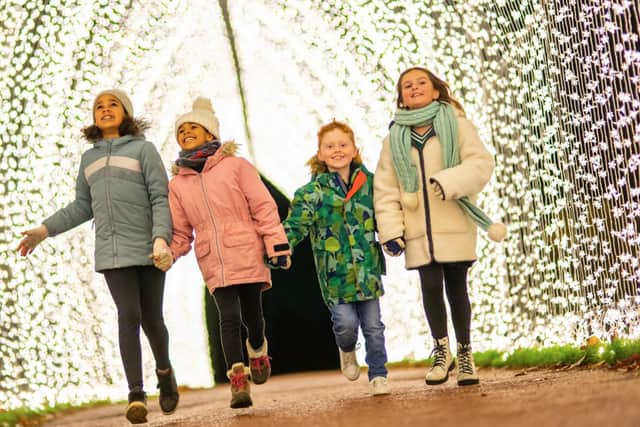 Festive favourites also return including the sparkling Christmas Cathedral and real-flame Fire Garden.
Majestic tunnels of light, dancing waterside reflections and trees drenched in jewel-like colour will be choreographed to a soundtrack of much-loved seasonal music.
This is an unmissable outdoor experience for family and friends, where everlasting memories are made.
Designed for visitors of all ages and accessible to everyone, expect plenty of selfie moments around the two-kilometre trail.
Independent street food vendors bring a delicious twist to the event with tasty treats on offer.
Everyone loves toasting a marshmallow over an open fire and the artisan marshmallow stall gives visitors the chance to warm their hands and enjoy this sweet outdoor tradition.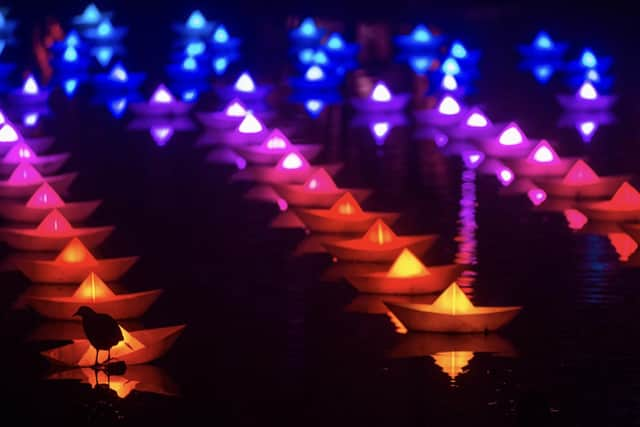 Visitors can complete their walk under the stars with a spiced winter warmer or hot chocolate shared with friends and family.
Extra charges apply for food and drinks on the trail.
Christmas at Belton is one of 14 outdoor illuminated trails staged across the UK by Raymond Gubbay Limited, a division of Sony Music. Christmas at Belton is presented in partnership with the National Trust and the trail is created by Culture Creative.
Matthew Findlay, Head of UK Trails for Sony Music/Raymond Gubbay Ltd, said: "We were thrilled with the fantastic response from visitors who enjoyed the trail last Christmas and our planning and preparation for 2022 is already well underway. Look out for some new surprises this year."
Cared for by the National Trust, Belton House is one of the top 100 most visited attractions in the UK.
Built for Sir John Brownlow in the 1680s, it has all the design features of a classic English country home. It sits in a 1300-acre deer park and attracts visitors from across the country each year
The estate also includes a café, indoor play area, gift and second-hand bookshops, and Lincolnshire's largest outdoor adventure playground.
* Tickets in advanced are priced from adult £21.50, child £15, family £71, of two adults and two children. Free entry for carers and children aged two and under. Parking is £8 per car. Free for National Trust members when booked in advance.