Asian hornets: Beekeepers and public warned as sighting confirmed in Dover - how to spot
Asian hornets have been spotted in the Dover area in Kent - this is how you can spot them.
Watch more of our videos on Shots! 
and live on Freeview channel 276
Visit Shots! now
Predatory honey bees, or Asian hornets, have been spotted in the Dover area in Kent, the government has confirmed. The National Bee Unit said monitoring is already underway to detect further Asian hornets in the vicinity and beekeepers and the public are asked to remain vigilant following their appearance.
Smaller than the UK's native hornet, the Asian hornet poses no greater risk to human health than native wasps and hornets, but they do pose a risk to honey bees. The latest sighting is the sixth time Asian hornets have been spotted in the UK this year.
Previously, a single Asian hornet was captured near Newcastle-upon-Tyne, Northumberland.
Defra's Chief Plant and Bee Health Officer Nicola Spence said: "By ensuring we are alerted to possible sightings as early as possible, we can take swift and effective action to stamp out the threat posed by Asian hornets. That's why we are working at speed to locate and investigate any nests in the area following the confirmed sightings in Kent.
"While the Asian hornet poses no greater risk to human health than other wasps or hornets, they can cause damage  to honey bee colonies and other beneficial insects.
"Please continue to look out for any Asian hornets and if you think you've spotted one, report your sighting through the Asian hornet app or online. Asian hornet nests will be smaller at this time in the year but we are still asking people to be vigilant."
What is an Asian hornet?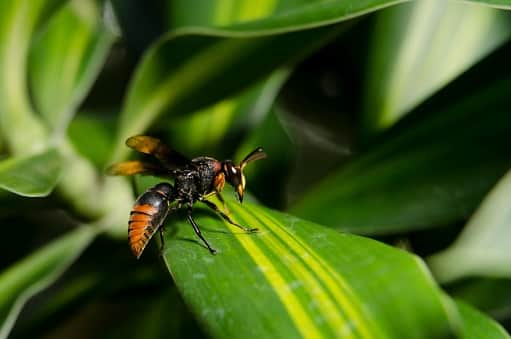 The concern around the Asian hornet is that it is a significant predator of bees. In France, it has consumed large numbers of bees, including the well-known European honey bee and many lesser-known solitary and colonial bee species.
How to spot an Asian hornet
According to the Government website, the Asian hornet has the following distinct identifying features:
Striking yellow 'socks' – leading to its common name in Asia of the 'yellow-legged hornet'
Slightly smaller than our native European hornet but larger than a common wasp
Darker than European hornet and many types of wasp, but has a distinct orange face and an orange-yellow band towards the tail end of its abdomen
It is important to not to approach or disturb a nest. Asian hornets are not generally aggressive towards people but an exception to this is when they perceive a threat to their nest.
If you suspect you have seen an Asian hornet you should report this using the iPhone and Android app 'Asian Hornet Watch' or by using our online report form. Alternatively, e-mail [email protected] and include a photograph if you can safely obtain one.