Bank of England increases interest rates for 13th time in a row to 5% - the highest rate since 2008
The Bank of England has increased interest rates for the 13th time in a row to 5 per cent - the highest since 2008.
Watch more of our videos on Shots! 
and live on Freeview channel 276
Visit Shots! now
The Bank of England has raised interest rates for the 13th time in a row as it battles to control rocketing prices. The Bank announced this afternoon (June 22) it would increase rates from 4.5 per cent to 5 per cent - the highest since 2008.
Last month the Bank raised the base rate, which is the interest rate that a central bank will charge commercial banks for loans, from 4.25 per cent to 4.5 per cent. It comes after shock figures this week showed inflation was stuck at 8.7 per cent in May, when it had been expected to go down.
Homeowners are facing large increases in mortgage repayments, with the average two-year fixed rate deal hitting 6.19 per cent. The 0.5 per cent hike means those on a typical tracker mortgage will pay about £47 more a month while those on standard variable rate mortgages will face a £30 jump.
Martin Lewis said this week that if interest rates were going to be high over three or four years, people will have to readjust their finances. In December 2022 the consumer champion warned the Government along with bosses from some of the UK's biggest banks to prepare for a scenario in which interest rates soared.
The Money Saving Expert founder told ITV's Good Morning Britain: "Waiting for it to happen would be too late. Yet now,the timebomb has exploded, and we're scrambling about what to do.
"I can't see this government bringing in a mortgage rescue package, even if it wanted to do so. The whole point of putting up interest rates is to remove money from the economy. You do that by giving people less disposable income - putting interest rates up is having the desired effect by squeezing people on mortgages."
Reacting to the announcement, chancellor Jeremy Hunt said high inflation is the "greatest immediate economic challenge" the UK must address. He added: "High inflation is a destabilising force eating into pay cheques and slowing growth.
"Core inflation is higher in 14 EU countries and interest rates are rising around the world, but the lesson from other countries is that if you stick to your guns, you bring inflation down. Our resolve to do this is watertight because it is the only long-term way to relieve pressure on families with mortgages."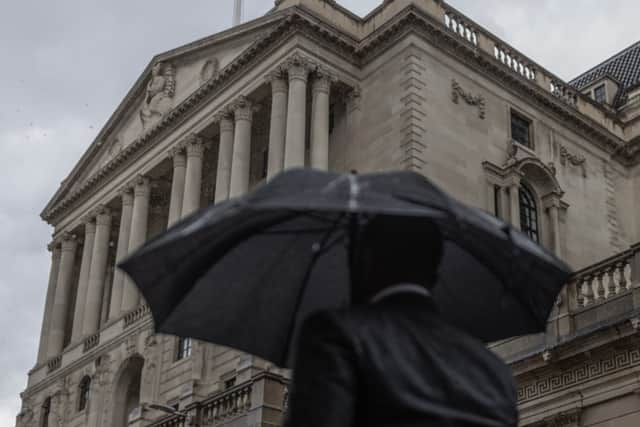 The Chancellor has previously said the Government would "not hesitate" in its resolve to support the Bank of England as it "seeks to squeeze inflation out of our economy".
Who does the Bank of England keep raising interest rates?
The Bank of England has a target to keep inflation at 2 per cent. The headline CPI inflation rate has fallen back from a high of 11.1% in October 2022, but in May the rate was 8.7 per cent which still more than four times the target.
The Bank of England said that raising interest rates is the best way it has to bring down inflation. But this means many people will face higher borrowing costs and some businesses will face higher loan rate.
On its website, the Bank said: "We know that will make things harder for many people, coming on top of higher energy and food bills.
"But we need to act to lower inflation. Low and stable inflation is vital so that money keeps its value and people can plan for the future with confidence. It's fundamental for a healthy economy. That's why we have been raising interest rates over the last year."