Banned number plates revealed following launch of new 2023 plates - see the full list
Following the launch of the brand new '23' plates - the full list of this year's banned number plates has been revealed
Watch more of our videos on Shots! 
and live on Freeview channel 276
Visit Shots! now
Following the launch of the new 2023 number plate, to showcase a brand new car registered this year, a full list of all banned number plates has been revealed. Included are a number plates celebrating the Russian invasion of Ukraine.
New cars are allocated plates containing the last two digits of the year they are registered in, meaning vehicles first hitting the road this year will have '23'. During the second half of the year '73' plates will be deployed.
Plates believed to have gang affiliations or terrorist sympathies, like JH23HAD, have also been put on the list of banned plates. Plates such as CO23ONA and YE23WAR have been banned.
A Carwow spokesperson told This is Money: "Few drivers are likely to want to be told to GO23 HEL or EA23 POO by the car in front, for example, while nobody wants to share the road with a BA23 TRD, a PS23 CHO, a TO23 ERR or an AA23 OLE.
Full list of banned number plates 2023
AS23FWC, AS23HLE, AS23OLE, AW23NKR, AW23NKS, BA23TAD, BA23TRD, BA23TUD, BJ23BOY, BJ23FAB, BJ23GAL, BJ23GAY, BJ23GRL, BJ23LAS, BL23JOB, BL23WJB, BO23LOC, BO23LOK, BO23LOX, BO23OCK, BO23OCS, BO23OCZ, BOS23OCX.
BO23OKS, BO23OKX, BR23EDL, BU23OMB, BY23RUS, BY23UKR, CA23OMB, CC23EDL, CO23CKK, CO23CKS, CO23ONA, CO23RNA, CR23PLE, CRR23PPL, DD23UNK, EA23DCK, EA23DKS, EA23DYK, EA23FWF, EA23GAL, EA23GRL
EA23HER, EA23MEE, EA23MME, EA23MOT, EA23MUT, EA23NOB, EA23POO, EA23PWP, EA23VAG, EA23VAJ, EU23BAD, EU23BOM, EU23FWC, EU23OFF, EU23OMB, EU23RUS, EU23SHT, EU23UKR, EU23WAR, FA23NNY, FE23ATE, FF23GOT, FF23KED, FF23KER
FK23RUS, FK23RUS, FK23UKR, FK23VAJ, GA23EDD, GA23LOW, GA23NJA, GA23OMB, GB23BAD, GB23BOM, GB23DED, GB23DED, GB23DWN, GB23FKT, GB23GNG, GB23GUN, GB23HTR, GB23KLL, GB23KLR, GB23KLS, GB23MOB, GB23RUS, GB23SHT, GB23UKR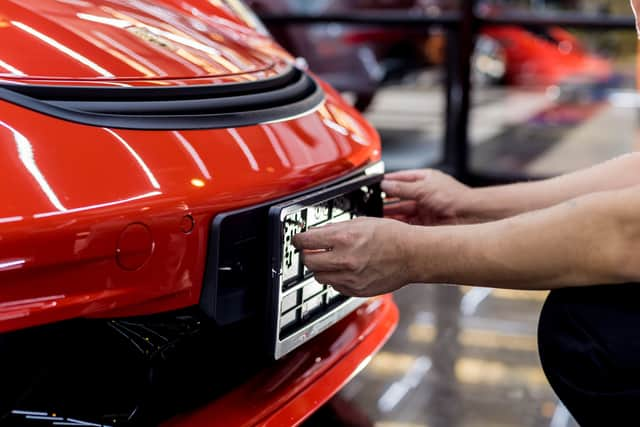 GB23WAR, GO23BCK, GO23BLE, GO23FUC, GO23HEL, G023HLL, GO23OMB, GO23PRC, GO23PRK, GO23RUS, GO23SHT, GO23UKR, GO23WAR, GR23OPE HE23OLA, HE23REW, HE23ULA, HH23TLR, HH23WAR, HS23ULA, JH23HAD
JY23HAD, KK23YKE, KN23FED, KN23FER, KN23FES, KN23FEU, KN23FEX, KN23VED, KN23VES, KN23VEU, KN23VEX, KR23PLE, LE23BOO, LES23BOS, LE23EAN, LE23EEN, LE23ERS, LE23OES, LE23OOS, LE23RRS, LE23RSS, LE23YAN, LE23ZAA, LE23ZAR
LE23ZAS, LE23ZAY, LE23ZAZ, LE23ZBO, LE23ZER, LE23ZRR, LE23ZRS, LE23ZZA, LE23ZZR, MG23RUS, MG23UKR, M023EST, MU23DER, MU23ERR, MU23ERS, MU23ERU, MU23ERZ, NE23NOG, NE23ROO, NE23RRO, NE23RRO, NE23GAR
NG23GAR, NG23GER NG23GGA, NG23GGR,NG23GRR, NG23GUR, NO23ARM, NO23BLK, NO23COP, NO23END, NO23ER, NO23FUZ, NO23GAY, NO23LAC, NO23LAK, NO23LCK, NO23LEZ, NO23LKS, NO23MLF, NO23MOT, NO23MUF, NO23MUM, NO23PRK
NO23RUS, NO23UKR, NO23UMM, NO23UUM, OR23ASM, PE23ADO, PE23VRT, PK23YKE, PS23CHO, PU23ES, PU23SAY, PU23SUX, RU23FWF, RU23OMB, RU23UKR, SC23OTE, SC23OTM, SC23TOM, SC23TUM, SH23GED, SH23GER, SS23JUW, SS23WAR
SS23XRW, TE23ROR, TO23ERR, TO23ERS, TO23ERZ, TO23RAH, UA23RSE, UA23RYN, UA23RYN, UD23UNK, UF23GOT, UH23OMO, UK23ANG, UK23RUS, UK23UKR, UK23YKE,  UN23GER, UN23RUS, UN23UKR, UP23RUS, UP23UKR, UR23REM, UW23NKR
UW23NKS, VU23LVA, WA23RUS, WA23UKR, WE23APE, WH23EDL, WH23REE, WH23RES, YA23DEE, YA23DYS, YE23DTH, YE23RUS, YE23UKR, YE23WAR, YE23DTH, YS23WAR