A not-so-rare 50p coin has fetched a whopping £10,000 on eBay, leaving coin enthusiasts wondering why. Although described as 'rare' by the seller, this particular chunk of change has millions just like it still in circulation.
Taking to the auction website, the Glasgow-based owner of the coin wrote, "Rare UK Brexit 50p Coin - Peace prosperity and friendship with all nations," in reference to the words embossed on the 'tails' side. However, according to numismatist website, Change Checker, a total 10 million of these exact coins were minted.
The only official United Kingdom coin to commemorate Brexit, it was inscribed with the date the country withdrew from the union. But it was thanks to the start of that partnership The Royal Mint issued the first ever commemorative 50p - marking the momentous occasion the 1973 European Economic Community coin was released into circulation.
Describing the Brexit coin, Change Checker said: "On the 31st January 2020 the United Kingdom left the European Union – over three and half years after the vote. This departure is possibly one of the most historically significant events to happen in modern history and to commemorate this day, The Royal Mint issued this Withdrawal from the European Union 50p.
"It is the only official United Kingdom coin to commemorate the occasion. The reverse design features messaging 'Peace, Prosperity and Friendship with all nations' alongside the official withdrawal date, 31 January 2020."
At the time, the Treasury confirmed the number of Brexit 50p coins would increase to 10 million by the end of 2020 to satisfy collector demand.
How much is the Brexit 50p worth?
According to the Chancery Collection website, the Brexit coin should not be worth much more than its face value, making the recent eBay selling price even more surprising. The coin experts said: "Right now as the Brexit coin is fairly new and the mintage amount was 10 million, the Brexit 50p coin is not worth more than 50p, yet. The value may go up over time but it is not known."
Royal Mint 10 rarest 50p coins
According to the Royal Mint, the most sought after 50p coins in circulation today feature, almost entirely, Olympic sports and Beatrix Potter Characters. That is with the exception of the most coveted 50 pence of them all - the 2009 Kew Garden coin.
A spokesperson for the Royal Mint said: "The shape of the 50 pence made it the ideal canvas for special commemorative designs, and over 70 events, anniversaries and individuals have been celebrated on circulating 50 pence pieces.
"The famous 2009 Kew Gardens 50p remains the most coveted coin in circulation, with a mintage of just 210,000. Other rare designs include the 2011 Olympic 50p's and the highly collectable Peter Rabbit 2018 coins."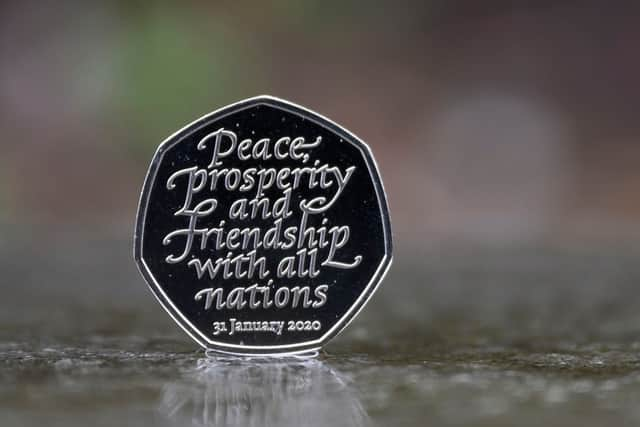 Below you can see the 10 rarest 50p coins ever released into circulation:
2009 - Kew Garden - 210,000 minted
2011 - Olympic Football - 1,125,500 minted
2011 - Olympic Wrestling - 1,129,500 minted
2011 - Olympic Judo - 1,161,500 minted
2011 - Olympic Triathlon - 1,163,500 minted
2018 - Peter Rabbit - 1,400,000 minted
2018 - Flopsy Bunny - 1,400,000 minted
2011 - Olympic Tennis - 1,454,000 minted
2011 - Olympic Goalball - 1,615,500 minted
2011 - Olympic Shooting - 1,656,500 minted