British holidaymakers entering Portugal from May 17 'could face EU travel ban'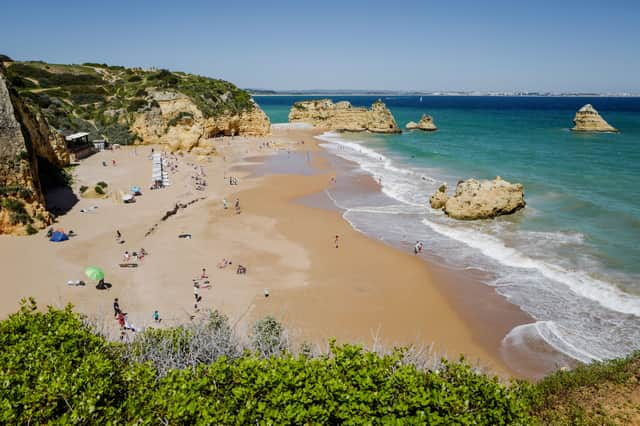 British holiday makers getting ready to travel to Portugal when the roadmap eases could be turned away at the border.
This is because EU rules currently ban non-member states from non-essential international travel.
It's another set back for sun worshippers wanting to make a quick getaway to a country where quarantine on return to the UK is not necessary.
As Lisbon holds the EU presidency, according to the The Times it will be difficult to reverse the ban.
From May 17, the "stay in the UK" restriction will be lifted and people will be able to travel to "green list" countries, though they are still being advised not to go to destinations on the amber list.
The European Commission is not expected to meet until next week to discuss its recommendation on travel to member states from third countries.
There's doubt surrounding whether the commission will act quickly enough for travellers heading to Portugal as Step 3 of England's roadmap eases.
It comes as holiday operator Tui announced on May 12 that it's bookings had risen by 181%.
It is currently illegal to travel abroad from the UK for holidays. However, guidance on international travel is set to change from Monday,17 May.
Travel to a handful of approved "green list countries" – including Portugal – without having to quarantine, is permitted, provided travellers take one post-arrival test.
In England and Scotland, people coming from its 12 green list countries and territories will have to take a test when they arrive and will otherwise also be free not to self-isolate.
The countries announced on Scotland's green list are Australia, Brunei, the Falkland Islands, the Faroe Islands, Gibraltar, Iceland, Israel, New Zealand, Portugal, St Helena, Accession, Tristan da Cunha, Singapore, and South Georgia and the South Sandwich Islands.
These countries are initially the same destinations as on the UK Government's green list for England.
But travelling to many of the destinations on that list won't be quite so easy, with entry to Australia, New Zealand, Singapore, Brunei, and the Faroe Islands severely restricted.
The amber list covers popular holiday destinations such as Spain, France, Italy and Greece, and people returning from amber countries must take two post-arrival tests; Transport Secretary Grant Shapps has said "you should not be travelling to these places right now".
Everywhere else is currently on the red list; those returning from a red list country must stay in a quarantine hotel for 11 nights at a cost of £1,750.
No plans on international travel have been announced by the Welsh government, but UK Transport Secretary Grant Shapps said on 10 May that he expects the rules will be "broadly similar" to those for English tourists.