Cost of living: Third of British fish and chip shops 'will close' due to soaring costs, owners warn
The average price of the UK's beloved fish and chips shot up to £9 in the last year as ingredients become more expensive.
Watch more of our videos on Shots! 
and live on Freeview channel 276
Visit Shots! now
Chippies across the UK have shed light on the struggles they are facing amid soaring costs - with fears up to a third of shops will close. The average price of the beloved takeaway shot up to £9 in the last year as ingredients become more expensive, according to official stats.
And while chip shop owners are desperate to keep their prices down so they aren't scaring off customers, some say they have no choice. Andrew Crook owns Skippers of Euxton in Chorley, Lancashire and is also the chairman of the National Federation of Fish Friers (NFFF).
He fears at least a third of shops will go over the next five years. Andrew, 47, said: "In the smaller shops it is very difficult to make a profit and there are a lot of shops up for sale at the moment.
"Many of my members just feel completely ignored and disenfranchised. My profits are non-existent. I'm losing money and working for free at the moment. There are not many shops that are making profit. It is very difficult.
"Since March last year I've gone from £7.25 for fish and chips to £9.50. I've not put them up as much as I need to cover my cost increases. Potatoes are usually £8 a sack and will probably be £30 next week and I think they'll reach £40 this year.
"Palm oil and beef dripping were £14 for 12.5kg and they've gone to £24 or £25. Sunflower oil was around £20 for 20 litres and is now at £43; and cod went from about £150 or £160 for 18kg to as high as £250."
Food inflation, energy and fuel costs, as well as Russia's invasion of Ukraine, had driven up the cost of ingredients and the power to cook them, chippies say. Amadeu Catanho, 54, who has owned Crispy Cod Fish Bar in Lockleaze, Bristol since 2005, is another owner worried about having to close.
He said: "You never know what will happen to the prices. The oil has doubled, the gas and electric has more than doubled and fish and everything else is following them.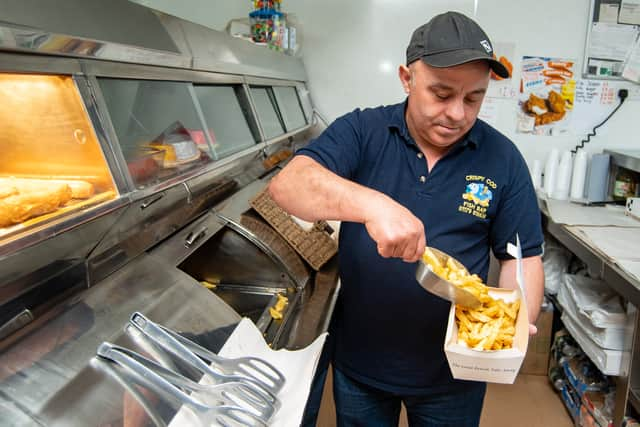 "I am worried. We are just wondering if we are going to be here in the future years. The way things are at the moment is very scary. People are not coming here as much as they used to. They can't afford to.
"We are charging £9.90 for regular cod and chips. Three years ago it was £6. We try to keep it low for our customers but it is very hard to keep our margins up."
Richard Colman Ord, 30, is the fifth generation of his family to run Colmans in South Shields, Tyneside. He described the desperate situation as the "perfect storm". He added: "I have seen horror stories from friends in the industry that energy bills have decimated their business by going from £1,000 to £4,000 or £5,000 a month.
"You can't just find that kind of money. I do think prices will come down but never to where they were before. We will just have to absorb them.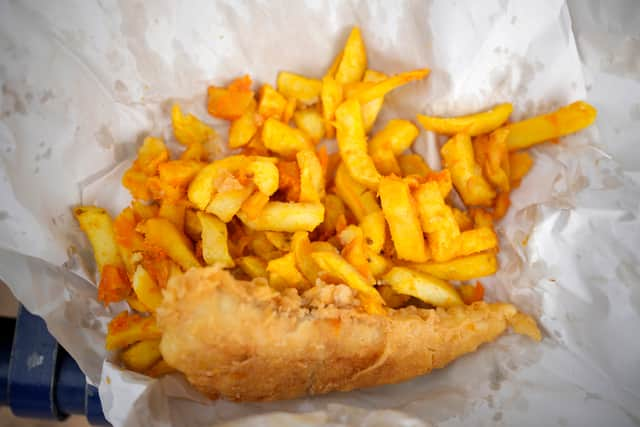 "I already know of a few that have had to close their doors and I do think more will follow because it is an extremely difficult climate. We have only increased the price of cod and chips by about 80p because we don't want to pass it all on to our customers."
And Nick Lomvardos, 56, owner of Bishopston Fish Bar in Bishopston, Bristol, since 2010, said: "It is crippling us. Every single week we are struggling with something new. If it's not the gas and electric, it's the oil.
"If it's not the oil, it's the fish. If it's not the fish, it's the packaging. If it's not the packaging, it's the potatoes – they've gone from £6 a sack to £22 a sack. There is no profit at all. This time last year fish and chips was £6, now it's £10.
"Hundreds of shops have closed. Every single day all around the country you see places up for sale and it is really sad. I don't want to close it down. I call it my baby.
"I started it from nothing. I refuse to give up and will carry on until I fall ill or if it comes to the point where I'm losing a lot of money every month."