David Beckham's oldest fan aged 102 left speechless over surprise video message by football star
Football star David Beckham sends a personalised video message to one of his oldest fans to thank her for her continued support.
Watch more of our videos on Shots! 
and live on Freeview channel 276
Visit Shots! now
A 102-year-old woman, said to be David Beckham's oldest fan, was left stunned after the football star sent a personal video message thanking her for her support. World War II veteran, Mona Hurry, who lives with a life-size cardboard cutout of the former England captain in her bedroom at Castor Lodge Care home, Peterborough, has followed Beckham's entire career.
And her continued support did not go unnoticed, as Beckham himself got in touch with her to say thank you. The video was revealed during a David Beckham appreciation party held in the care home on Tuesday (January 24) complete with football cupcakes and Beckham masks as part of the care home's 'Make a Wish' initiative.
In the video, Beckham said: "Hey Mona - I just wanted to send you a message because everybody at Castor Lodge, all of the staff and of course your daughters have said what an incredible lady you are.
"I also want to say a personal thank you because I know you've followed my career, my whole career, and I know you're a huge football fan. So I just wanted to say thank you so much for all your support over the years. I'm sending lots of love for being an incredible person."
Mona was so shocked by the video and she didn't believe it was real. In a video filming her reaction, she said: "Is that - who is that? Did he send that to me? Really?" She then immediately wanted to watch it again.
She said: "He's normal, he's natural. He doesn't have any airs and graces; he's just himself.
He never pushes forward. Like what happened when he went to see the Queen - people made a way for him to go ahead and he said 'No, that's your place, you got here first'. That's the sort of person he is."
Her daughter, Maureen said: "It is years since I have seen my mother with such a smile on her face. Who knew a cut-out David Beckham was all it needed?! Thank you for doing this for her."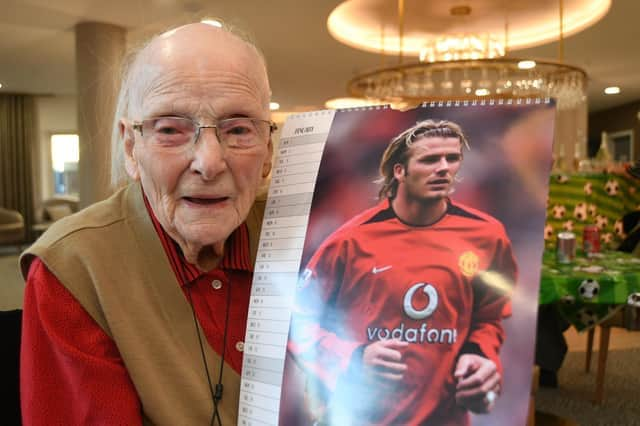 Daughter Victoria said: "Absolutely amazing - my mother looks so animated and is smiling. Thank you all at Castor for your thoughtfulness and making my mother a day to remember."
Laura Mills, a manager at the home, helped to arrange the party and video message. She said: "Mona adores David Beckham and loves to talk about him. She always says what a special, lovely and charitable man he is.
"Bearing in mind he's a very busy man, he sent that message just after he landed in the States on Wednesday. Mona is an incredibly sweet and kind lady herself, who always reaches out to everybody in the home to ask how they are."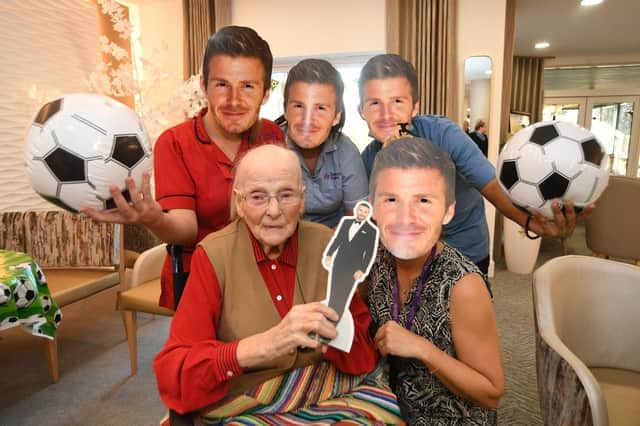 Growing up, Mona served in the Women's Royal Naval Service during the Second World War. She operated as a code breaker to intercept and crack the secrets of German wartime communication, playing a crucial role in Allied victory.