Dengue fever: Scientists fear UK outbreak after British woman infected with virus following trip to France
Scientists have said more cases of Dengue Fever could be found in the UK due to climate change
Watch more of our videos on Shots! 
and live on Freeview channel 276
Visit Shots! now
Scientists have warned a dengue fever outbreak could be possible in the UK as mosquitoes that carry the virus are moving into Europe due to climate change. The warning comes after doctors treated a British woman who caught the virus in France but visited A&E when she returned home.
The 44-year-old woman was infected with dengue after visiting her family in Nice. She experienced fever, headache, muscle pain and a rash for three days when she returned home but did not require further medical treatment.
An urgent sample was sent to the Rare Imported Pathogens Laboratory, which confirmed she had an acute dengue virus infection. Dr Owain Donnelly, from the Hospital for Tropical Diseases in London, said: "This individual was part of an outbreak of over 30 locally transmitted cases in the south of France in 2022, which highlights the rapidly changing epidemiology of dengue."
"With climate change, particularly hotter temperatures and more rainfall, and increasing global trade and tourism, we may see more parts of Europe with the right combination of factors for dengue outbreaks.
"Surveillance and reporting mechanisms are important in ensuring we have an accurate understanding of dengue spread."
The woman, 44, had returned the day before symptoms started and had not travelled to any other countries. Relatives she stayed with in France also experienced similar symptoms.
Dengue fever is spread by the bite of mosquitoes infected with the dengue virus, typically in tropical regions in Asia, South America, and Asia. However climate change has led to the increased presence of the Asian tiger mosquito, a carrier of the disease, throughout southern Europe.
Most UK infections of the virus are diagnosed in travellers who have recently visited these regions. Dengue fever has flu-like symptoms but an estimated 75% of cases are asymptomatic and can go undetected.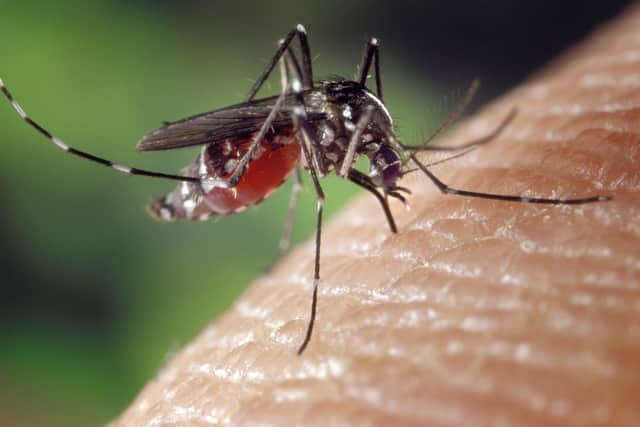 In severe cases, 1 to 5% of patients develop potentially fatal severe dengue or dengue hemorrhagic fever.
Between June and September 2022, the Agence Regionale de Santé (ARS) in France reported three separate outbreaks of dengue virus transmission contracted on national territory without patients having travelled abroad.
Dengue fever - symptoms
The NHS website says dengue fever is an infection spread by mosquitoes. It's not usually serious and often gets better on its own but some people get a more severe type of dengue, but this is rare.
If you do have symptoms, they usually start 4 to 10 days after being bitten by an infected mosquito. Some dengue symptoms are similar to flu.
a high temperature
a severe headache
pain behind your eyes
muscle and joint pain
feeling or being sick
swollen glands
a blotchy rash made up of flat or slightly raised spots – this can affect large areas of your body
Dengue fever - severe symptoms
Some people get a more severe type of dengue a few days after they first started feeling ill, but this is rare.
severe tummy pain
repeatedly being sick
fast breathing
bleeding gums or nose
extreme tiredness (fatigue)
being unable to relax (restlessness)
blood in your vomit or poo
Dengue fever - where can you get it
Dengue is very common in certain parts of the world especially in tropical areas including:
parts of Africa and Asia
Central and South America
the Caribbean
the Pacific islands
some southern areas of North America
Dengue - where can you catch it in Europe
There's also a risk of getting dengue at certain times of the year (spring to November) in parts of southern Europe. European countries where dengue has been found include:
Croatia
France
Italy
Spain
Portugal and Madeira