Full list of the 61 shops and banks closing across UK this week including M&Co, New Look & Barclays
More than 61 shops and banks will close this week alone as the UK high street continues to decline.
Watch more of our videos on Shots! 
and live on Freeview channel 276
Visit Shots! now
Dozens of stores across major high street brands are set to close for good this week as the UK high street continues to decline. Many retailers have been struggling since the pandemic while shoppers are tightening the purse strings due to rocketing inflation, which stands at 10.1 per cent.
Soaring energy and food costs mean that people have less money to spend which is bad news for shops, restaurants and pubs. With more people switching to digital banking, bank branches up and down the UK are also set to bow out for good in 2023.
Here is a full list of all the shops and banks that will close in the UK during this week alone.
Full list of shops and banks closing in the UK
M&Co
M&Co will close 170 shops this year. The fashion retailer fell into administration in 2022 and was sold to Yours Clothing, which bought M&Co's brand and intellectual property but not its physical stores.
This week, a total of 38 M&Co stores have closed or will close for good. These are:
Alexandria - April 18
Alnwick - April 22
Alton - April 18
Attleborough - April 18
Bexhill - April 20
Billericay - April 18
Blandford Forum - April 22
Brighouse - April 20
Castle Douglas - April 20
Chesham - April 22
Christchurch - April 20
Cleveleys - April 22
Dunoon - April 18
East Grinstead - April 22
Elgin - April 20
Exmouth - April 20
Garstang - April 20
Glenrothes - April 20
Guisborough - April 18
Haddington - April 22
Helensburgh - April 20
Henley on Thames - April 20
Hitchin - April 23
Inverurie - April 22
Kirkintilloch - April 22
Largs - April 22
Milngavie - April 20
Montrose - April 18
Northallerton - April 22
Oswestry - April 22
Portishead - April 22
Rickmansworth - April 21
Romsey - April 18
Saffron Walden - April 22
St Neots - April 20
Stroud - April 22
Warminster - April 20
Wokingham - April 23
M&S
M&S is pulling the plug on another branch this week. Its store in Castleford, West Yorkshire will shut for good on Saturday (April 22) following the closure of multiple branches including some in London and Edinburgh.
The retailer is planning to axe 67 stores over the next five years. But it will also open 104 "bigger and fresher" food stores, it said. This includes 20 new stores across the UK in 2023 including in Leeds, Manchester, Birmingham and Liverpool.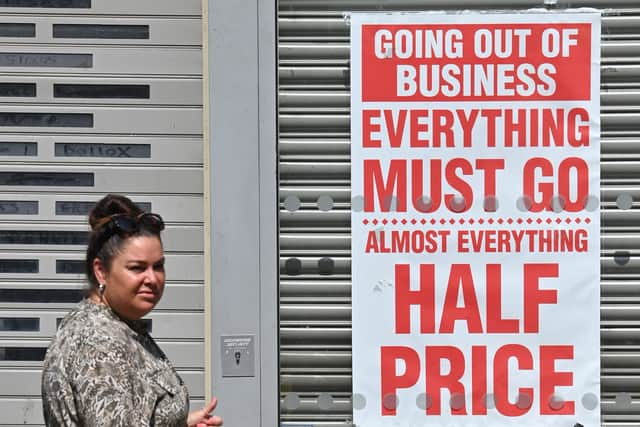 New Look
New Look will close one of its stories this week after a string of closures earlier in the year including in Birmingham and Coventry. The fashion retailer closed 85 of its shops, which saw hundreds of staff laid off, back in 2018.
The retailer's Cheshunt branch will close on Wednesday (April 19). The news was confirmed on the store's Instagram page, with shoppers told their closest local stores were now Enfield and Harlow.
Bank closures
According to data from UK cash machine network LINK, there are 332 planned UK bank branch closures in 2023 as people make the switch to digital and online banking.
If you're worried about your branch closing, you can switch to another bank that has a branch open in your area, or access most bank services at your local Post Office.
This week alone, 20 bank branches are set to close:
Bishop Auckland - April 21
Keswick - April 21
Leeds - April 21
London, Green Street - April 20
London, Tower Bridge Road - April 19
Milton Keynes - April 18
Shenfield - April 19
Warley - April 21
Bangor - April 17
Chester Le Street - April 19
London (EC3M) - April 19
Abergavenny - April 18
Bexhill-On-Sea - April 18
Blandford Forum - April 18
Cromer - April 1
St Austell - April 18
St Ives - April 18
Beckenham - April 20
Norbury - April 19
Pontefract - April 20
Gloucestershire (Kingswood) - April 20