Furniture company leaves sofa 'jammed on staircase': New homeowner shares pictures of 'unbelievable' delivery
Designersofas4u.co.uk said it was carrying out an internal investigation after it was accused of abandoning a stuck sofa on a narrow staircase.
Watch more of our videos on Shots!
and live on Freeview channel 276
Visit Shots! now
A furniture company has found itself in a tight spot after being accused of leaving a sofa on the stairs after a failed delivery attempt. Designersofas4u.co.uk, based in Birmingham, is reported to have failed to get the new £2,000 sofa bed up a narrow staircase, leaving the homeowner enraged.
Luke Ansell, 27, had just moved into his brand new home in Bournemouth in December when he bought the couch, delivered on January 19. He said despite delivery men assuring him that they made tight deliveries 'all the time', the two employees from the firm abandoned the piece of furniture after it got stuck.
Photos of the shocking attempted delivery show how the pair allegedly left huge holes in the staircase plasterwork, and damage to the woodwork, after leaving the furniture wedged halfway. The farce drew comparisons with an episode of TV comedy Friends - in which Ross tries to navigate the couch up the stairs with the help of Rachel and Chandler by turning the furniture around and screaming "pivot" over and over again.
Luke, a newlywed, said he refused to sign the delivery forms after they recommended cutting off his bannister and then insisted they had to leave so they could get back to the company's offices in Birmingham on time.
He claimed the company later rejected his account of events when he complained, with the delivery men allegedly denying they ever tried to get it up a staircase - despite Luke having photos of them at the scene. Luke said that the service was 'shocking'.
He said: "Honestly it was unbelievable, the sofa was over £2,000 and they caused about that much damage delivering it. They got here and I showed them where I wanted it upstairs. I said that it looked quite tight, but they assured me that they do tight deliveries all the time.
"I just said 'oh well you're the experts' - they are a delivery company after all so I just left them to it. They brought it in, they struggled to get it over the bannister and eventually got it in. But then it got jammed, they couldn't get it up or down.
"Then they said 'look we've got to get back to Birmingham' and tried to leave. They asked me to sign for the delivery - but I refused. We had a little bit of an argument about it, and then they suggested I cut away the bannister to get it out.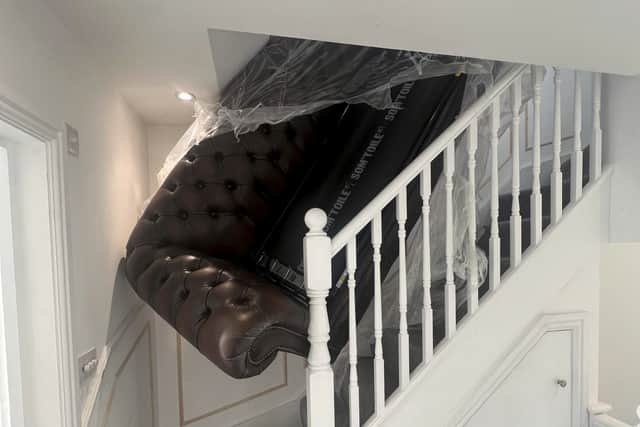 "It's a brand new house that we had just bought for half a million, and now we have to have the work done to repair it. Then they just left it there and went back to Birmingham. The drivers also said they didn't even try to get it up the stairs, but I have actual doorbell footage of them after they delivered it to my house.
"I have a photo of them at the bottom of the stairs after the damage was done too. They've destroyed the plasterboard, and damaged all of the wooden skirting on the stairway. They've also damaged the sofa too. It was just a shocking response by the company - so I'm just trying to raise awareness about their standards of service."
The firm, designersofas4u.co.uk told the BBC it was carrying out an "internal investigation." The report said they emailed their client and disputed his version of what happened - claiming the sofa had been "left in a safe place on the landing".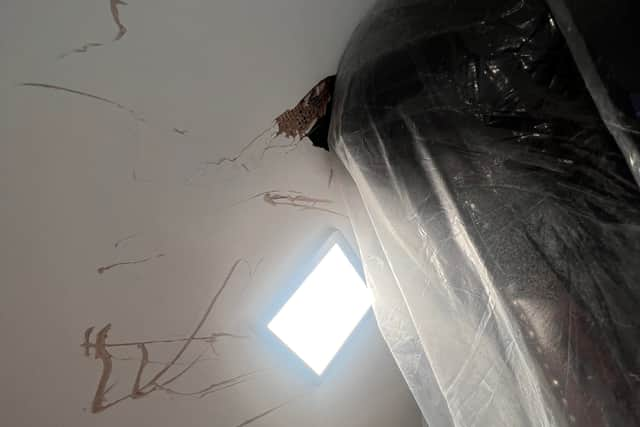 It offered to replace the damaged sofa as a "goodwill gesture". A spokesman for designersofas4u.co.uk said on arriving at the property they warned Luke the sofa would not fit and suggested leaving it in a safe place.
They said it is a customer's responsibility to check if the sofa would fit into the room they wished it to be moved to. They said Luke was aware of the terms and conditions but insisted and tried to move it with the delivery drivers up to the third floor.
They say ''we objectively accept that between our delivery team and yourself that damage has been caused'' and offered a replacement and to pay for reasonable repairs.