Hay-fever or COVID-19: Key differences you need to know as pollen season begins
With hay fever on the rise, how do you know if it's just an allergy or COVID?
Watch more of our videos on Shots! 
and live on Freeview channel 276
Visit Shots! now
Hay fever is set to be on the rise as the pollen count peaks in the UK but how can you tell the difference between a seasonal allergy and COVID-19? Unfortunately, many symptoms overlap for both but there are key differences that everyone should be aware of.
While guidelines on COVID-19 don't strictly prevent you from going outdoors, it is recommended that you rest at home to help fight the disease and stop the spread. If you're still unable to tell if you have COVID-19 or hay fever after reading the list below - it's always a good idea to take a test.
Here's everything you need to know about the difference between COVID-19 and hay fever.
What is hay fever?
Hay fever is an allergic reaction to pollen, typically given off by trees, grass and weeds. Pollen is a fine powder produced by plants but can play havoc with our senses when it comes into contact with our mouth, nose, eyes and throat.
Different types of pollen are produced at varying points of the year and people can be sensitive to all kinds or just experience a reaction to, for example, grass pollen.
What are symptoms of hayfever?
Symptoms for hay fever include itchy eyes, throat, mouth, nose and ears. You may experience headaches and a loss of smell while sneezing and coughing and a runny or blocked nose is also likely.
Is it hay-fever or COVID-19?
Dr Gordon Sinclair said: "The main symptoms of coronavirus are a high temperature, new continuous cough or loss of smell or taste. People may also feel quite unwell. While the symptoms of coronavirus and hay fever can overlap, people with hay fever don't experience a high temperature and most won't feel unwell.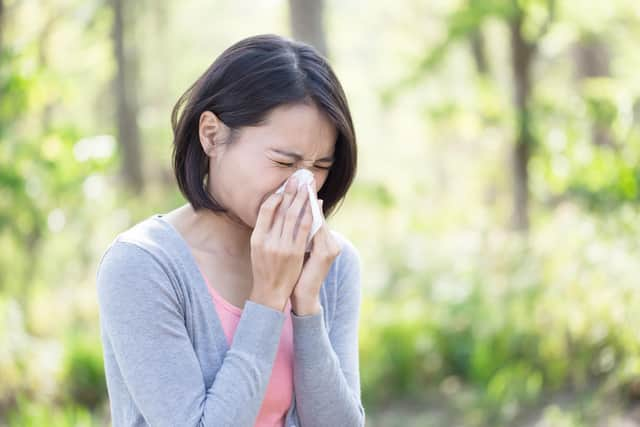 "Hay fever and allergy symptoms tend to be milder, for example, itchy eyes, sneezing and coughing," he adds. "Symptoms may vary over the course of the day or depending on the weather, as the pollen count changes. They can also usually be controlled through antihistamines or nasal sprays."
Additionally, there are differences in how hay fever and COVID-19 affect our loss of smell. With hay fever, a loss of smell typically coincides with a runny or blocked nose. Whereas, if you lose your sense of smell without a stuffy nose - it's much more likely to be COVID-19.
Itchy, red or watery eyes are factors prevalent in hay fever that are far less common in COVID-19. Also, a dry, persistent cough is more associated with COVID than hay fever.