How to keep your child safe online as extreme online child sexual abuse material doubles in two years
The amount of extreme sexual abuse content has doubled since 2020 with newborn babies and toddlers among the victims
Watch more of our videos on Shots! 
and live on Freeview channel 276
Visit Shots! now
The number of extreme sexual abuse content towards children online has doubled since 2020 with images of children as young as seven rising by two thirds. The Internet Watch Foundation (IWF) has warned that as children become more active online, there is an increased risk of being groomed or abused by strangers "even in their own bedrooms".
The IWF took action to remove or block 51,369 web pages that contained Category A child sexual abuse material in 2022. The foundation also said that the total number of URLs that contained extreme abuse was higher than the IWF had ever seen before.
The organisation describe Category A as the most severe kind of imagery and also can include the worst kinds of sexual abuse. The Internet Watch Foundation also reported that the younger the child involved, the more extreme the abuse was likely to be.
More than 80% of images found of children aged up to two years old were considered Category A, which compared to 50% of material relating to children aged three to six, 20% of those aged seven to 10 and 17% for those aged 11 to 13. IWF chief executive, Susie Hargreaves, said she was "shocked" that the worst level of abuse was targeted at children under 2-years-old.
In the report, Hargreaves said: "It's heart-breaking to reveal, again, that in 2022 we've seen increases in the number of reports which include images and videos of the sexual abuse of children aged 7-10. And that sexual imagery created of children when they are online, often in the supposed 'safe spaces' of their bedrooms, now accounts for almost four in every five reports."
Kate Edwards, NSPCC Associate Head for Child Safety Online said: "One of the most impactful ways in which parents and carers can protect their children from online harm is through having healthy and open conversations about their online experiences, who they chat to and the content they are seeing and sharing. Starting these discussions can seem daunting, but the NSPCC's online safety hub offers tips and advice to help parents and carers with advice on popular platforms and how to keep children safe whilst online. It's important to approach these conversations in an age-appropriate way; start by exploring your child's favourite app and getting to know its features. You can also access our Helpline advice to support you with appropriate language and equip you with advice you can give to your child.
"We would also advise parents to explore privacy settings online with their child when looking at their favourite apps and games. Make sure that communication settings are in place to prevent unwanted or harmful contact from others online and ensure your child knows how to report and block within the app or game. Exploring what to do if your child receives an unwanted message or sees something online that worries them is an important step in keeping them safe online."
How to keep your children safe online
Use parental controls
Most internet-connected devices will have some form of parental control system but it is also possible to install your own. Both iOS and Google devices have features that allow parents to filter content, as well as setting time limits on how long children can be using their device.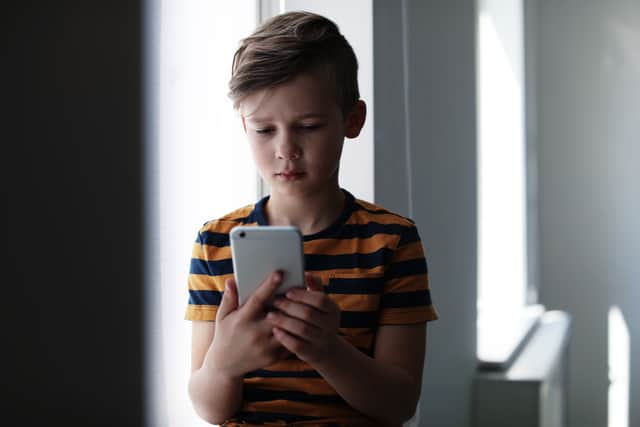 On iOS devices, a setting called Screen Time can block certain apps as well as content types or functions to ensure your children cannot access things you do not want them to. Android users will have to install the Family Link app from the Google Play store.
Talk to your children about their online activity
Once you give your children access to the internet, ensure you are regularly talking to them about what they are consuming online and who they are communicating with. It's also important to keep the conversation going as they get older to ensure they continue to remain safe online.
Discuss with your child what sites they visit and what apps they use and then look at them together. Start a conversation about what you think is appropriate, and explain how this can look different for other parents. As well as discussing what they consume, it's important to discuss online reputation and how they interact online in a public forum. At this time, discuss how what is being shared on the internet isn't private and the dangers of sharing content online with others.
Keep screens where you can see them
Keep computers in a central location in the home where you are able to monitor what your child is accessing online. In the settings on mobile devices, you can set them to forget Wi-Fi passwords, meaning that children can not go online without your knowledge.
Keeping devices out of bedrooms can also ensure you're able to easily keep an eye on what your children are viewing. With younger children you can also check browser histories to see where they are visiting, but this can get harder when children work out how to clear histories.
Know who your children's online friends are
Opening a discussion with children about safety regarding who they are talking to online. Children and young people may not be aware that the people they are talking to online might not be who they say they are.
Discuss risk of sharing personal information
If you're allowing your children to access social networks then you must make them aware of the risk of sharing personal information or images. Discuss being cautious and thoughtful about the information they share and take a moment to think before posting any personal information like their name, phone number, home address or name of their school.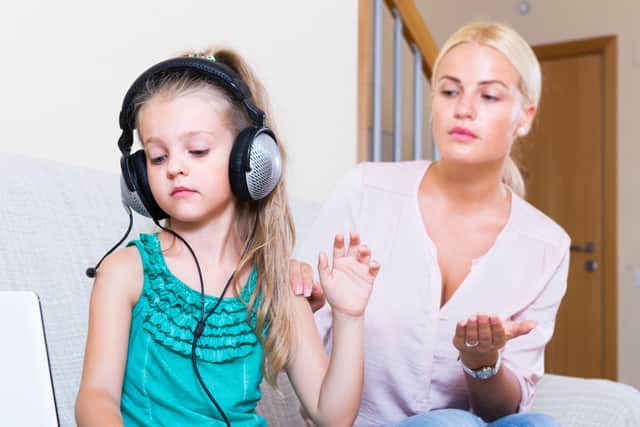 If your children are posting and sharing photos online, ask your child to let you approve photos before they are shared. Discuss the risk of geo-tagging on any apps your child may use, and how sharing your location can lead to strangers being able to easily find your child.
Keep control of your child's digital footprint
Consider how your own use of social media could be putting your children at risk, and how sharing pictures and personal details online can contribute to someone's digital footprint. Information you post about your children publicly can be used in ways you might not expect and cannot control.
Anything put online is permanent and can still have been seen and saved even if you have deleted the post. Regularly posting pictures of your children online can impact their digital footprint and can open them up to predators online.
For more resources and information on how to keep your children safe online, visit the NSPCC website.