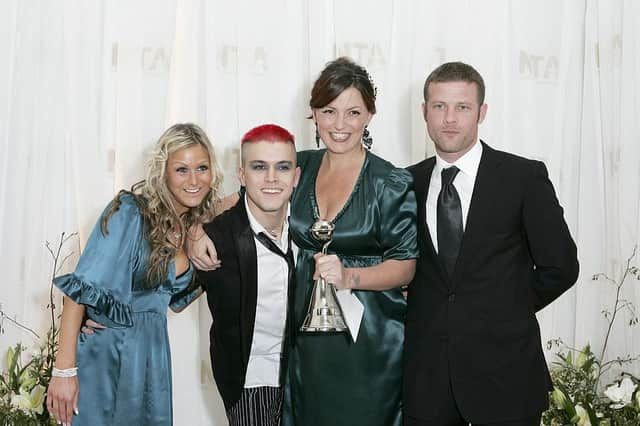 Ex-boyfriend and close friend of Nikki Grahame, Pete Bennett, appeared on Good Morning Britain to pay tribute to his co-star who passed away on Friday (9 April) following a battle with anorexia.
Bennett met Grahame, who died at the age of 38, on Big Brother in 2006. The two briefly dated before breaking up, but they remained close friends.
Speaking on Good Morning Britain, Bennett admitted that he was "shocked" to see how ill Grahame had become when her friends had launched a GoFundMe page to raise money for her to get specialist care.
'She was lonely'
Speaking to Good Morning Britain presenters Kate Garraway and Adil Ray, Bennett said that Grahame had been "lonely" during lockdown because she didn't have her usual "coping mechanisms", such as her friends.
"She was lonely, do you know what I mean? She was stuck in North London, do you know what I mean? All by herself. I'm lucky enough to be in Brighton where there's a beach and lots of people around," Bennett said.
"She was stuck there all by herself and she hasn't got her coping mechanisms any more. Her friends and her routine. What's there to look forward to?"
'It was a shock'
Bennett explained that Grahame had reached out to him when she had been hospitalised last year, to "come and rescue her".
He said: "I knew she was ill, I'd see pictures of her out with Imogen [Thomas] and I knew she was looking thin.
"She contacted me in the last lockdown saying she'd been hospitalised again and she wanted me to come and rescue her or something.
"She got out again, we were still in contact, but recently when I saw the GoFundMe, it was a shock.
"When I saw her recently it was a complete difference, it was quite a shock."
'I thought that love and support would save her'
Speaking over video call, Bennett said: "I thought that love and support would save her. I tried my best. Cause we had a bond like from Big Brother, we've always had that special bond, me and Nikki have always had that bond.
"We kind of went our separate ways for a few years. That kind of bond that me and Nikki shared after Big Brother was special and I thought that I would be able to lift her out of it, get her feeling good again you know.
"I just thought "love and support", and be like a real good mate, because we had that bond. I don't know, maybe I was wrong, but I just thought that she needed some good friends and hey, I even wrote to Kate Bush, like "hey Kate Bush, do you fancy like giving Nikki Grahame a pep talk, send her a little video message or something?" cause she was a massive fan."
'She wasn't well obviously'
Speaking about the last time he saw Grahame before her death, Bennett said: "I went over [to Grahame's house] it was magic, it was, she came out of her shell, we were reminiscing about Big Brother, and she wasn't well obviously, but in here she was still there and one of the most special nights I'd ever had with Nikki was that night, the last time I saw her.
"It was a real lovely, lovely bonding experience to kind of see each other after how many years we'd not seen each other.
"It is probably the fondest memory I've got of her now."
'It breaks our hearts'
Grahame's death was confirmed by her representative on Saturday (10 April) in a statement that said: "It is with immeasurable sadness that Nikki Grahame passed away in the early hours of Friday April 9 2021."
A message on the GoFundMe page, which aimed to fundraise money to allow Grahame to access specialist treatment, said: "It is with great sadness, we have to let you know that our dear friend Nikki passed away in the early hours of Friday April 9.
"It breaks our hearts to know what someone who is so precious was taken from us at such a young age.
"Nikki not only touched the lives of millions of people, but also her friends and family who will miss her immensely."
A version of this article originally appeared on our sister site National World