Late businessman hid secret treasure trove of 1,000 historic coins worth thousands in his wardrobe
The treasure trove of coins, including a William III crown dating back to 1696, were kept in the bottom of the man's wardrobe and also discovered inside a locked desk drawer.
Watch more of our videos on Shots! 
and live on Freeview channel 276
Visit Shots! now
The family of a late businessman were stunned after finding his secret collection of more than 1,000 historic coins squirreled away in shoe boxes – worth thousands of pounds. The treasure trove of coins, including a William III crown dating back to 1696, were kept in the bottom of the man's wardrobe and also inside a locked desk drawer.
His wife and daughter stumbled across the hoard while sorting through his belongings after he died last autumn. The man's widow, who has not been named, came across the collection scattered around their home in Luton, Bedfordshire.
She said: "I found most of the coins a couple of months ago but more turned up over the course of the next few weeks. I kept finding more every time I cleared another part of the house.
"They were in drawers and cupboards or wrapped up among other things. Most were in a wardrobe but I found a lot more locked away in my husband's old office desk.
"I had no idea he had so many and, to be honest, I think he'd forgotten about some of them. He started collecting in the mid-1970s and his hobby carried on for more than 40 years. It was just something he liked to do."
The collection is now being sold at auction and is expected to fetch more than £17,500. Amanda West-Butler, director of operations at Hanson Ross auctioneers, said: "It was an amazing discovery.
"When I went to meet the family I couldn't believe how many coins they'd uncovered - and more coins keep turning up. It's a find that keeps on giving.
"The coins belonged to a Luton businessman who sadly passed away last autumn. He was an avid collector and auction goer.
"His wife and daughter knew he liked to buy coins and had quite a lot but they had no idea just how many he'd secretly tucked away. Most of the coins were found in shoe boxes at the bottom of a wardrobe in the family home in Luton, but that was just the start.
"It was like an unexpected treasure hunt. Coins cropped up all over the place. The family kept calling me to tell me they'd found more.
"A collector's passion can never be under estimated, I suppose. This gentleman took great pleasure in sourcing and buying historical coins.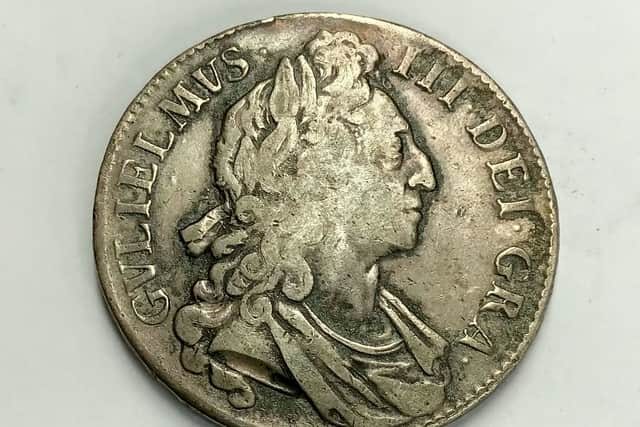 "Perhaps he didn't want to let on just how many he had but now he's left a valuable gift for his family. The collection is being sold as his widow is working hard to de-clutter the house.
"She is keeping a few coins for sentimental reasons. For example, some have been made into jewellery.
"However, she wants the others to go to people who will enjoy them as much as her husband did." The coins include a gold Edward VII 1902 £2 coin worth £500-£700; a William IV 1834 half-crown worth £80-£120; a George III 1819 crown worth £120-£160, and George V 1931 Wreath Crown worth £100-£160.
The collection will go under the hammer at Hanson Ross Auctions in Woburn next Friday (May 12).