Magician reveals the secret to having a perfectly shuffled deck of cards
Magician Henri White has shown exactly how to shuffle a deck of cards - just like they do in the movies.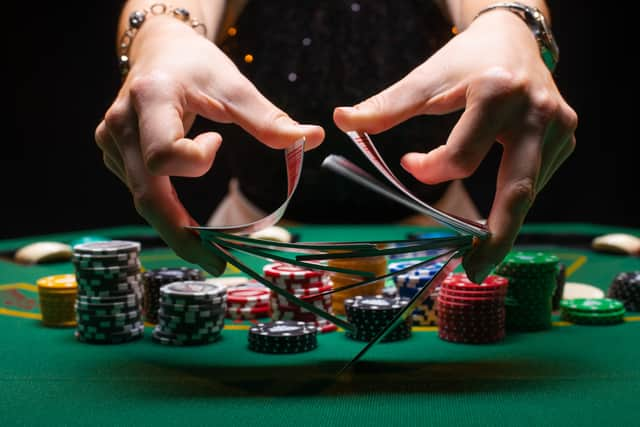 In a video, the expert shuffler shares how to look like a professional when dealing before a game of blackjack or poker – or even just showing off to your friends. 
He guides you through pub style beginners' shuffles, all the way up to casino shuffles and magician's tricks.
 The techniques look hard to master, but the key is in the slight pull of the cards, a flicking motion – and even a click of the fingers. 
Henri, who has partnered with Lottoland.co.uk to create the video, said: "Magicians shuffle cards with flair and panache – it's not all about the effectiveness of a shuffle but the way it looks to an audience."
Research commissioned by the brand has revealed the top movie gambling scenes - with James Bond's tense poker game in Casino Royale coming out on top.
The high stake five card draw in 1973 film 'The Sting', starring Paul Newman and Robert Shaw, came in a close second, while the famous card counting scene in The Hangover wrapped up the top three. 
Other memorable casino film scenes on the list included iconic casino moment in Rain Man, starring Tom Cruise and Dustin Hoffman when the brothers play blackjack. 
And when Brad Pitt's character in Ocean's Eleven teaches celebrities how to play poker.
Iconic casino moments in film
A spokesperson for Lottoland.co.uk, which commissioned the research to mark its casino products, said: "There are so many iconic movie moments, but nothing beats a tense poker scene where someone could walk away with millions or nothing.
"Whether it's poker, blackjack or roulette, casino games can be so entertaining – although it looks like a lot of people would rather watch the expert shuffling over the gambling."
The study of 2,000 adults also found 37 per cent of those who watch movies believe poker scenes make a film more enjoyable – and they have inspired 26 per cent to play the game themselves. 
Poker, roulette and blackjack were found to be the top casino games to watch in a film, accompanied by an unexpected twist, high stakes and a comeback. 
And 64 per cent wish they could shuffle cards just like they can do on the big screen – with a mere four per cent considering their shuffling skills 'very good'. 
The research also saw Caesars Palace, in Las Vegas, voted the most popular casino to visit around the world, closely followed by Monaco's Monte Carlo and the Bellagio in Las Vegas. 
It also emerged half of those polled admire the skill of professional poker players, according to the survey carried out via OnePoll. 
While 35 per cent believe they have a good poker face, although only 21 per cent consider themselves good at the game. 
Not understanding the rules, not being good at reading people and an inability to hide emotions are key reasons Brits can't play the card game well. 
The Lottoland spokesperson added: "Poker is a tricky game so it's not hard to see so few people consider themselves good – it's all about the bluff. 
"But for those who want to hone their skills and get in on the action, our casino has everything you've seen in the movies, from poker and blackjack to slots and roulette. Who needs Vegas?" 
Top 20 casino scenes
Casino Royale (2006) - James Bond (Daniel Craig) takes on terrorist, Le Chiffre (Mads Mikkelson), in a high stake Texas Hold'em tournament.
The Sting (1973) - The high stake Five Card Draw scene in a train where Henry Gondorff (Paul Newman) plays against Doyle Lonnegan (Robert Shaw), a mobster.
The Hangover (2009) – Alan (Zach Galifianakis) counting cards at a blackjack table in Vegas to make ransom money.
Rain Man (1988) - Charlie Babbitt (Tom Cruise) takes his brother, Raymond Babbitt (Dustin Hoffman) to a casino and they play Blackjack.
Ocean's 11 (2004) - Rusty (Brad Pitt) teaching celebs to play Poker in the back room of an LA casino.
Cool Hand Luke (1967) - Luke (Paul Newman) plays poker with his fellow inmates and wins the game by showing his great bluffing skills.
Goodfellas (1990) – During a game of poker, Spider (Michael Imperioli) forgets to get Tommy DeVito (Joe Pesci) his drink and Tommy overreacts.
Maverick (1994) - Bret Maverick (Mel Gibson) plays in a high stake poker tournament and reaches the final table against Angel (Alfred Molina) and Commodore Duvall (James Coburn).
Lock, Stock and Two Smoking Barrels (1998) - In this intense poker scene, Eddy (Nick Moran) and Hatchet Harry (P.H. Moriarty) go back and forth - raising the bets higher and higher each time.
The Cincinnati Kid (1965) - Young stud poker player, "The Kid" Eric Stoner (Steve McQueen), challenges the best card player in the country, "The Man" Lancey Howard (Edward G. Robinson) to a high stake Five Card Stud poker game - but there's an unexpected twist at the end of the movie which proves anything can happen in poker.
Rounders (1998) - The climax of this movie features a no-limit Texas Hold'em heads-up game played between Mike (Matt Damon) and Teddy (John Malkovich)
Big Hand for Little Lady (1966) - Mary, played by Joanne Woodward, replaces her husband (Henry Fonda) when he collapses mid-game
Casino (1995) – Sam 'Ace' Rothstein (Robert De Niro) asks 'Cowboy' (Craig Vincent) to take his feet off the poker table and put his shoes back on – but he doesn't comply.
Casino (1995) – When playing Blackjack, drunken Nicky Santoro (Joe Pesci) wants a $50,000 marker but they will only give him $10,000.
Molly's Game (2017) – Molly Bloom causes Harlan Eustice to fold to a far inferior player
Tombstone (1993) – Doc Holliday (Val Kilmer) gets "a peach of a hand".
21 (2008) – The counting cards casino scene.
Honeymoon in Vegas (1992) - Jack Singer (Nicholas Cage) plays a five-card draw game a few hours before he plans on marrying his fiancée Betsy (Sarah Jessica Parker).
House of Games (1986) - With the help of his psychiatrist, Dr Margaret Ford (Lindsay Crouse), Mike (Joe Mantegna) plays poker against his rival, George (Ricky Jay).
Lucky You (2007) – L.C. Cheever (Robert Duvall) asks his son, Huck Cheever (Eric Bana), to show him how he would have played a poker hand.