Man receives backlash for proposing to girlfriend at graduation ceremony in viral clip
A man has been accused of being 'selfish' for proposing to girlfriend at a graduation ceremony in a clip that has gone viral.
Watch more of our videos on Shots! 
and live on Freeview channel 276
Visit Shots! now
A man who proposed to his girlfriend at a graduation ceremony has triggered a heated debate on social media, as the romantic gesture appeared to have not gone down well with many.
Footage of the unidentified man popping the question as the woman goes up to collect her degree was posted on Twitter by Newcastle University on Wednesday (July 19) with a caption: "There's more than one way to make your day in King's Hall memorable."
The woman appears stunned in the clip, which has been viewed over 3 million times, at the sudden appearance of the man, who is also dressed in graduation robes, and the ring, as those watching the ceremony give the couple a standing ovation.
The footage, however, appears to have been taken down.
While the clip racked up plenty of views and has since been shared across social media platforms, many users continue to hit out at the manner in which the man in the video decided to propose.
One Twitter user commented: "Do you know what the worst thing about this is? All of it" Another wrote: "It's awful. Poor lady. One of the best days of her life hijacked by a rather selfish prat." One said: "And he put her on spot to accept? Just as she's finishing college! No. Way. Run girl."
Another agreed, saying: "Selfish, self-centred narcissist can't even let her have her moment and has to make it all about him." One agreed, saying: "She gets a standing ovation for being proposed to when the greater achievement of her degree has now been overshadowed. I'd be so cross."
While many appeared to have a negative response to the viral clip, some said the proposal was "super sweet" and "romantic". They added: "What a really special day to remember for them."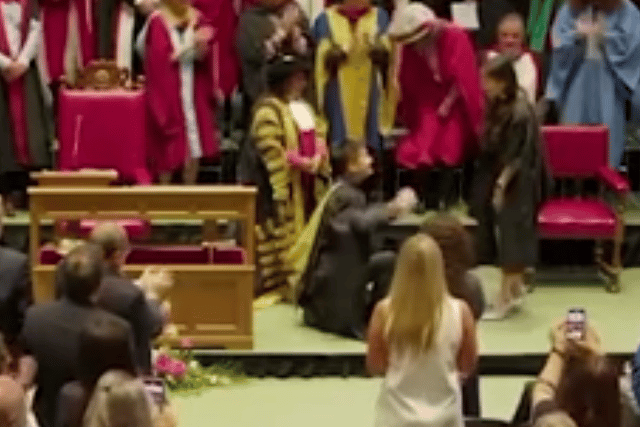 In response, Newcastle University confirmed removing the video from its platforms. A spokesperson said: "The proposal was captured by our graduation live stream during the ceremony earlier this week and was warmly received by those present. 
"We have now removed the video from our social media channels and wish them both well."