Many tenants feel "trapped" in the rental cycle
Tenants feel trapped in the rental cycle - as house prices rise by 18 per cent in two years.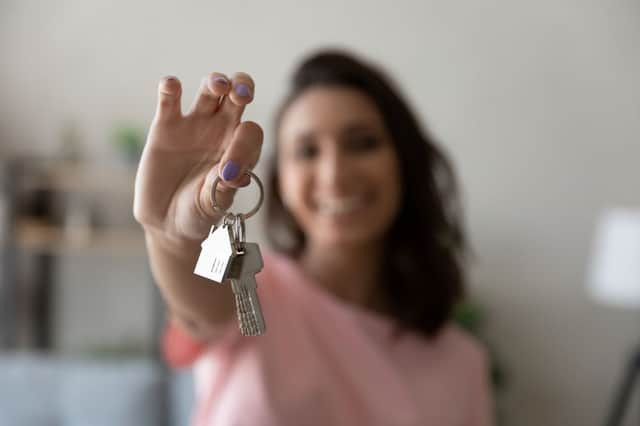 Eight in 10 tenants feel 'trapped' in the rental cycle – as ONS figures show house prices for first time buyers have risen by an average of 18 per cent in the last two years, an increase of £39,680. A study of 2,000 adults who live in a rental property found 86 per cent dream about one day stepping onto the property ladder.
But the cost-of-living crisis is the most common setback for renters as they now save less for a deposit, while 41 per cent say house prices in their area are rising too quickly for them to keep up. More than one in three (35 per cent) are struggling to save as their rent has increased – with these now having to find an extra £1,000 per year for their landlord.  
And 42 per cent even believe their mortgage repayments would be more affordable than their current rental payments. In fact, 43 per cent believe it is practically impossible to buy without combining salaries and savings with a partner.
Climbing the property ladder
The research was commissioned by Skipton Building Society to mark the launch of a first of its kind mortgage, the Track Record, which helps tenants to purchase their first property without the need of a deposit.  Charlotte Harrison, CEO of home financing at Skipton, said: "In over 20 years the number of people privately renting has more than doubled, and many of these tenants' hopes of one day owning their own home continues to fall.
"We need to tackle the UK's housing affordability crisis to enable more people, especially renters who are trapped in renting cycles, to have access to buying a home. Renting cycles have been a societal issue for many years now – but with escalating rents and the cost-of-living squeeze further impacting people's ability to save for a house deposit – it is making it even harder for people get onto the property ladder.  
"We recognise there is a clear gap in the market for people who have a decent history of making rental payments over a period of time and can evidence affordability of a mortgage – but there is currently no solution for them to buy a property due to lack of savings or access to family wealth.
"That's why we've developed the Track Record mortgage, which will enable people in rental cycles to access the property ladder for the first time." 
The research went on to find exactly half of renters with an ambition to buy are feeling overwhelmed by their pursuit of a property – with 49 per cent also frustrated. And a fifth have even noted they are continuously being priced out as other buyers are overbidding for homes.
Help for struggling tenants
On average, these aspiring buyers are putting away more than £250 per month specifically with the intention of buying a home.  But they estimate they will need around £26,000 for a deposit in order to buy a property they want. 
Despite the good intentions, over half (51 per cent) admitted the cost of living has impacted on how much they can save each month. And the lack of saving enough to cover a deposit is leaving many stuck in their current rental properties, with over a quarter (28 per cent) stating they've been in the same rental property for five years or more now.
Leaving nearly six in 10 (58 per cent) feeling less optimistic that 2023 will be the year they finally get on the property ladder. Such is the determination to break their rental cycle, 48 per cent of those polled via OnePoll are now willing to give up specific requirements they had always wanted for their first home. 
With many willing to consider much smaller properties, that don't have second toilets, garages and spare rooms in their pursuit. Aneisha Beveridge, head of research at Hamptons, an estate agent which is part of the Skipton Group, said: "2023 presents fresh challenges for those hoping to buy their first home – the cost-of-living crisis, exacerbated by double-digit rental growth, has limited households' ability to save up for a deposit.  
"With last year's strong house price growth, the end of Help to Buy – which helped over 350,000 people buy their first home – and higher interest rates added into the equation, it's clear first-time buyers are having to work harder than ever to get a grip on the first rung of the ladder." 
Charlotte Harrison from Skipton added: "We know there isn't one quick solution to addressing this huge societal challenge and our Track Record mortgage will not be able to help everyone. It is only part of the solution for this group of people, but as a lender, we're taking a stand to offer innovation in this space to help turn generation rent into generation buy."
"To help tenants who can evidence affordability for a mortgage and have a good history of making rental payments, we will loan them up to 100 per cent of the property value on a five-year fixed term mortgage, helping them to take their first steps onto the property ladder. It has carefully been created with the challenges generation rent is facing in mind, together with it managing the potential risks and challenges they may encounter in the future too."