OnlyFans billboards pop up in UK promoting adult sex work - residents turn to graffiti
OnlyFans is an online platform mainly for users to share their homemade pornography with paying subscribers
Watch more of our videos on Shots! 
and live on Freeview channel 276
Visit Shots! now
A string of OnlyFans billboards promoting an adult content creator have cropped up in the UK but residents don't appear to be happy. The advert - featuring X-rated model Eliza Rose Watson posing in her underwear - prompts locals to subscribe to her raunchy page.
The adverts promote two of her pages - including an OnlyFans page, which contains explicit content, and her Instagram account, where she describes herself as a "recovered addict turned gym junkie".
The huge boards have been spotted in Harrow and Edgware, north west London, while another was seen in Norwood, south east London.
OnlyFans is an online platform mainly for users to share their homemade pornography with paying subscribers. The site has seen tremendous growth in the past few years with the website celebrated for normalising and promoting the visibility of sex workers.
However, many residents oppose the site and have hit out against the series of billboards.
One outraged individual graffitied the OnlyFans advert in North Harrow, with the message "keep porn off our streets". While another questioned how such content is 'allowed to be advertised in such an unregulated way'.
The harrow resident, who asked not to be named, said: "The use of sexualised imagery, although far from ideal, is not my main sticking point, rather, the service advertised is entirely inappropriate for a billboard visible to all.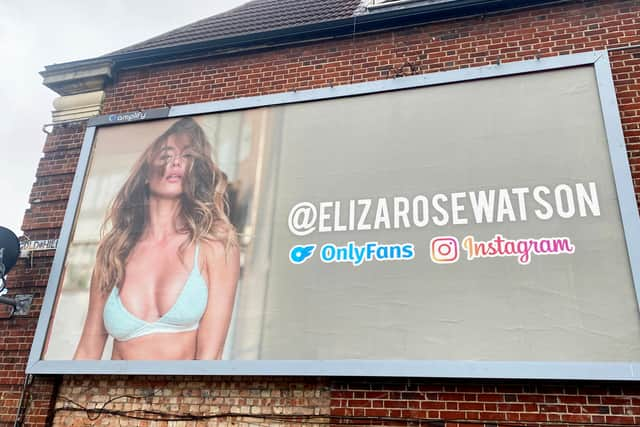 "Harrow is a rural suburb of Greater London, not Soho or the Red Light District of Amsterdam," they added.
Some industries including gambling, alcohol and tobacco are regulated on how and to whom they are able to advertise due to the adult nature of their product. The Gambling Act 2005 requires companies to be 'socially responsible' with their marketing in order to 'protect children, young persons and other vulnerable persons'.
The resident adds: "The billboard is not only visible to anyone at all times but is also less than half a mile away from two schools, one of which being for primary school children, and shares a road with the advertisement, being on the same route parents take their children to school.
"Regardless of what the intended audience may be, it is a matter of fact that pornographic services are being promoted to children in this instance.
Other residents shared images and videos online of the same billboard elsewhere in London, one in Burnt Oak, north west London, and another south of the River Thames in Norwood.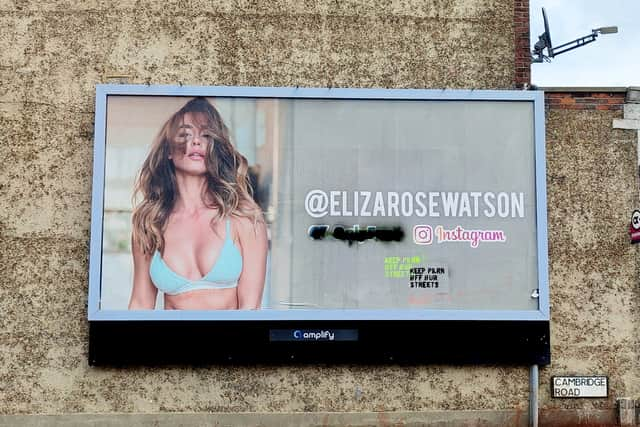 One resident said: "OnlyFans being promoted on a billboard is ridiculous, this is what our generation has become." Another added: "Never thought I'd see OnlyFans girls buying billboards now."
Ms Watson - who appears on the series of billboards - argued the content is no more explicit or damaging than other adult adverts for alcohol, underwear and gambling. She said much work had gone into the production of the advert and discussions were made to assure it meets the advertising guidelines.
Ms Watson said: "The picture is of a 34-year-old woman and the OnlyFans logo is there. It doesn't tell you how to access it. It doesn't give a website address, it's just there.
"And if someone underage were to try and access that, as long as there's parental controls on their phone - which I assume there are - they're not going to be able to load onlyfans.com it just doesn't work."
Following a string of complaints from local residents, Harrow West MP Gareth Thomas said he has taken the matter to the Advertising Standards Authority. He said: "I agree that the placing of this advert isn't appropriate given that young children will be walking past it on a daily basis.
"I have written to the Advertising Standards Authority asking them to assess whether their criteria for such adverts is appropriate."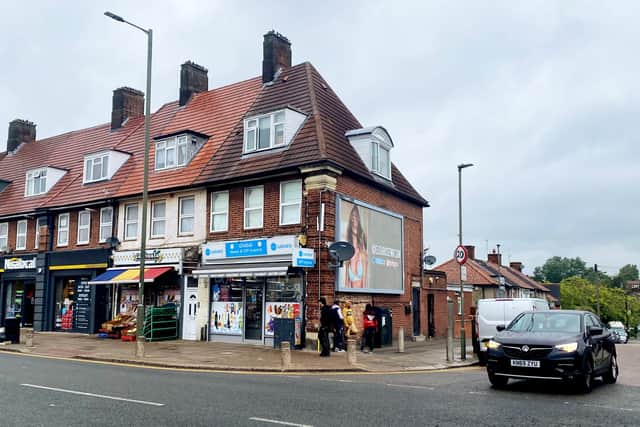 A spokesperson explained these complaints are being reviewed to see if it requires looking into, but an investigation has not been officially launched at this time.
Ms Watson, 34, rakes in around £180,000 a month using the sex cam platform and is said to be a millionaire from her online work.