Oxford & Cambridge Boat Race 2023: Full list of teams as universities go head-to-head in rowing spectacle
The 2023 Boat Race is here, with Oxford and Cambridge set to go head to head in the annual rowing competition along the River Thames.
Watch more of our videos on Shots! 
and live on Freeview channel 276
Visit Shots! now
The Boat Race is back for one of Britain's biggest sporting events. The rowing spectacle will kick off today (March 26), 194 years after the first men's showdown between the two rival universities.
Reigning champions Oxford has claimed 13 wins for the men's team since 2000, while Cambridge has only won the race nine times in the last 13 years. However, the longest consecutive streak for either side is just three wins.
The women's race saw a streak of dominance for Oxford between 2000-2016 but this soon came to an end as Cambridge have won the last five races. In 2020, both races were cancelled due to the Covid-19 pandemic.
The side-by-side rowing events take place on the 4.2-mile (6.8 km) Championship Course on the River Thames in south-west London. It starts downstream of Putney Bridge, passing under Hammersmith Bridge and Barnes Bridge, before finishing just before Chiswick Bridge in Mortlake. The timings for both races are based on the tides to allow teams the best possible chance of recording fast times.
But who will compete for Oxford and Cambridge and how can you watch the event on TV? Here's everything you need to know.
Oxford & Cambridge Boat Race: Who will compete?
There are three roles in rowing - bow, stroke and cox. The race is rowed in eights and the cox can be of any gender.
Bow: Laurel Kaye (Worcester), Claire Aitken (Oriel), Sara Helin (St. Peter's), Ella Stadler (Exeter), Alison Carrington (Hertford), Freya Willis (Magdalen), Sarah Marshall (Jesus)
Stroke: Esther Austin (St Anne's)
Cox: Tara Slade (St Peter's)
Bow: Carina Graf (Emmanuel), Jenna Armstrong (Jesus), Rosa Millard (Trinity Hall), Alex Riddell-Webster (Murray Edwards), Claire Brillon (Fitzwilliam), Freya Keto St (Edmund's), Isabelle Bastian (Jesus)
Stroke: Caoimhe Dempsey (Newnham)
Cox: James Trotman (Sidney Sussex)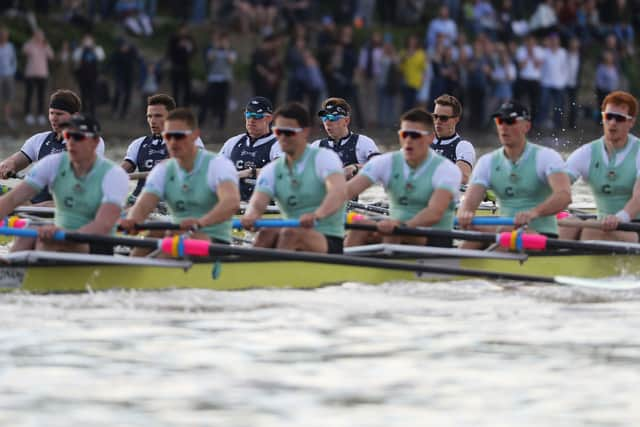 Bow: James Forward (Pembroke), Alex Bebb (St. Peter's), Freddy Orpin (St. Catherine's), Tom Sharrock (Magdalen), James Doran (Oriel), Jean-Philippe Dufour (Lincoln), Tassilo von Mueller (Hertford)
Stroke: Felix Drinkall (Wolfson)
Cox: Anna O'Hanlon (Somerville)
Bow: Matt Edge (St Catharine's), Brett Taylor (Queens'), Noam Moulle (Hughes Hall), Seb Benzecry (Jesus), Thomas Lynch (Hughes Hall), Nick Mayhew (Peterhouse), Ollie Parish (Peterhouse)
Stroke: Luca Ferraro (King's)
Cox: Jasper Parish (Clare)
What time is the Boat Race?
Both the women's and men's races will take place on Sunday (March 26). Each race will last around 20 minutes, beginning at the approximate times:
The 77th Women's Boat Race: 4pm
The 168th Men's Boat Race: 5pm
Oxford & Cambridge boat race: How to watch on TV and live stream