More than 100 Paperchase stores will down shutters permanently over the coming weeks after the stationery retailer collapsed into administration last month. A total of 106 stand alone shops and concession stands across the UK will gradually begin to close for good in another huge blow for the high street.
It is estimated the closures will affect around 900 jobs. The exact date each store will close is unknown as it will vary depending on how much stock shops have left to sell.
In January, Tesco announced it had acquired the Paperchase brand, but not its shops. In a statement, managing director of home and clothing Jan Marchant said the brand was "well-loved by so many" and the supermarket was "proud to bring it to Tesco stores across the UK".
The Paperchase website closed for good last Friday, with customers told of the news in an email sent a few days before. The retailer told shoppers that it was with a "heavy heart" it was closing its online store.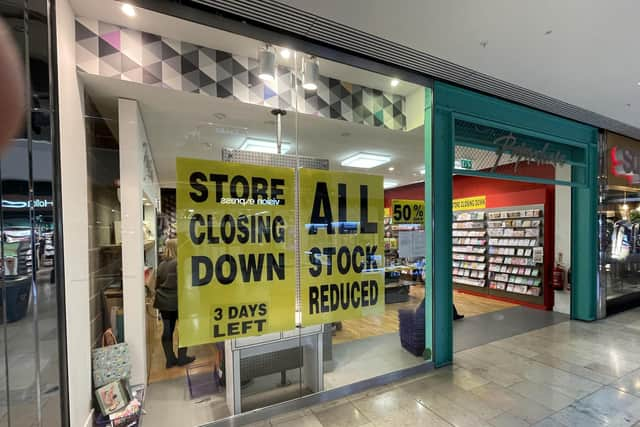 The firm also thanked customers who gave the brand "support and loyalty" over the years. Over the next few weeks, customers will be able to visit stores for the last time and get discounts of up to 50% off certain items.
Paperchase was founded in 1968 by art students Judith Cash and Eddie Pond who opened a store in Kensington, London. Since then it has changed hands numerous times, with WH Smith and the now defunct US books retailer Borders among its previous owners.
Full list of Paperchase stores that are closing
The list includes stand alone stores as well as Paperchase concessions based at Arnotts, Selfridges and Next.
Altrincham
Arnotts
Basingstoke
Bath
Battersea
Belfast
Berkhamsted
Beverley
Birmingham Grand Central
Birmingham New St
Birmingham Selfridges
Bishopsgate
Bishops Stortford
Bluewater
Bracknell
Braehead
Brighton
Bristol
Bromley
Bury
Bury St Edmunds
Byres Road
Cambridge
Canterbury
Cardiff St Davids
Cheapside
Chelmsford
Cheshire Oaks
Chester
Chichester
Chiswick
Colchester
Cribbs Causeway
Derby
Dundee
Dundrum
Durham
Edinburgh
Edinburgh Morningside
Exeter
Finchley Road
Forestside
Glasgow Buchanan
Guernsey
Guildford
Harrogate
Henley on Thames
Hereford
Hitchin
Islington
Jersey
Kings Cross Station
Kingston
Lakeside
Leamington Spa
Leeds Commercial Street
Leicester
Lewes
Lincoln
London Bridge
Maidstone
Manchester
Marble Arch
Meadowhall
Merry Hill
Metro Centre
Newbury
Newcastle
Next Aintree
Next Birmingham Junction 9
Next Bolton
Next Bournemouth
Next Camberley
Next Crawley
Next Enfield
Next Gloucester
Next Handforth Dean
Next Hanley
Next Ipswich
Next Kirkcaldy
Next London Colney
Next Luton
Next Maidstone
Next Manchester Arndale
Next Norwich
Next Oxford Street
Next Plymouth
Next Selly Oak
Next Shoreham
Next Solihull
Next Straiton
Next Wolverhamptom
Next York
Northcote Road
Nottingham
Oxford
Perth
Peterborough
Plymouth
Putney
Ringwood
Rushden Lakes
Sailsbury
Sevenoaks
Sheffield
Silverburn
Solihull
Southampton
Staines
St Albans
St Andrews
St Pancras Circle
St Pancras Station
Street Outlet
Swindon
Taunton
Telford
Trafford Centre Selfridges
Tunbridge Wells
Victoria Station
Walton on Thames
Wandsworth
Wattington
Waterloo Station
Watford
Whiteley Village
White Rose Leeds
Wimbledon
Winchester
Windsor
Woking
Worcester
York
York Outlet