Petition launched to hold Met Police accountable after two dogs shot dead and man Tasered in London
A petition has been launched calling for  the Met Police to be held accountable over its handling of an incident in which two dogs were shot dead last Sunday.
Watch more of our videos on Shots! 
and live on Freeview channel 276
Visit Shots! now
A petition has been launched by activists, with more than 120,000 signatures gathered so far, calling for the Metropolitan Police to be held accountable over its handling of an incident in which two dogs were shot dead and a man was Tasered.
On Sunday (May 7), the force was called to reports of a woman being attacked by a dog in Commercial Road, Poplar, East London. Footage on social media showed a man holding two dogs on nearby Limehouse Cut before he was Tasered and the dogs shot. The man was later arrested.
In a video which made the rounds on social media, a group of officers can be seen holding a catcher pole, riot shield and gun as they approach the man and the dogs as he appears to walk away. The police can be heard trying to persuade the man to surrender the animals but the situation appears to become increasingly heated before the two dogs were shot.
The Met Police has since defended its action amid criticism by members of the public who happened to witness the incident, claiming the dogs were not being 'aggressive'. A Met spokesperson said the behaviour of the two dogs caused "considerable concern" and "posed a significant threat" to the officers.
The spokesperson added: "A man was arrested in connection with the incident for having a dog dangerously out of control and assault offences. He has been taken into police custody." The statement added a Taser was discharged during the incident and both dogs "were destroyed by police at the scene" but no one was taken to hospital.
The statement continued: "This is never an easy decision for any officer to take, but police have a duty to act where necessary before any further injury is caused." Floral tributes have since been placed at the scene where the two dogs were killed.
An eyewitness told the BBC they couldn't believe officers resorted to shooting the dogs. The woman said: "I don't think the dogs looked aggressive, they were both wiggling their tails…The way of dealing with this with guns in the middle of the street, with us sitting on our balcony watching this, it just doesn't feel safe."
Petition for Met Police to be held 'criminally accountable'
The online petition, which was launched soon after the incident took place, has now gathered 127,000 signatures so far, with many calling for the force to be held "criminally accountable for their unlawful actions and their unacceptable abuse of power".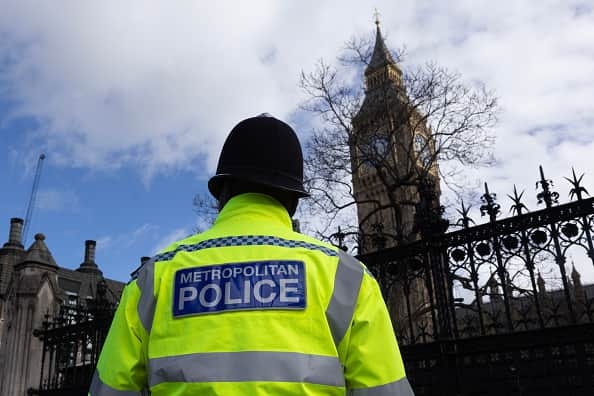 The petition says: "Concrete video evidence all over social media shows these dogs to be under control and on leads with their owner. Yes, these dogs are barking and reacting to the police, but any normal dog would do the same when being approached by multiple armed, vocal people in uniform, surrounding them in such a threatening manner.
"They continue to claim in their statement that these dogs were 'dangerously out of control' and, yet again, video evidence shows this not to be the case. The dogs even immediately calm down when their owner asks them to.
"So why, then, is it acceptable for the police to not only taser their owner, but SHOOT AND KILL BOTH DOGS AT CLOSE RANGE?! One of which seemingly doesn't die straight away, either, and is left to suffer on the canal path while shocked onlookers are left screaming.
"And why, too, does one police officer, who has one of the dogs secure in a catch pole, then choose to release that dog and let it run back to its owner, only to be shot as it runs away?
"The owner was clearly very distressed and adding to the upset of his dogs. But, regardless of his actions, this is about the dogs and the fact that they were inhumanely and unnecessarily slaughtered in broad daylight.
"This is easily one of the most disgusting, abhorrent and totally unjustifiable videos I have ever seen and, once again, the Met Police need to be held criminally accountable for their unlawful actions and their unacceptable abuse of power."