Spider season: The reason eight-legged creatures invade UK homes in September and why you shouldn't kill them
Spiders are known to invade UK homes in September - but why, and how can you keep the eight-legged creatures at bay?
Watch more of our videos on Shots! 
and live on Freeview channel 276
Visit Shots! now
September is a beautiful month, signalling the changing of the seasons. The days grow shorter, the leaves begin to colour and Halloween and Christmas are now just around the corner.
But it's also a stand-out month for a less popular reason. September is when spiders descend on UK homes, leaving the arachnophobes among us traumatised.
These eight-legged creatures can have a leg span of up to 75mm and look menacing as they scarper across the living room floor. But why are they so common at this time of year?
Here's everything you need to know including why you shouldn't kill spiders and if they pose any harm.
Why are spiders more commonly seen in autumn?
Spiders seem to pop up around our homes more during the autumn, particularly in September and October. This is because it's their mating season, which begins in early September and finishes mid-October. During mating season, male spiders come out of hiding to look for a mate.
While female spiders are known to stay in one place for all of their lives, males are always on the move. During spider mating season, they will go searching for females and often find them inside homes - which is why you may notice more of them over the next few months.
Which spiders are most common in the UK?
There are 650 species of spiders in the UK, according to PEST UK, but most of the spiders we see in our homes in autumn are house spiders. They are descendants of species from Africa and the Mediterranean, so they prefer to live indoors where it's warm.
The average house is likely to have 40 spiders hidden away in cracks and crevices, but in older houses - sorry - there can be hundreds.
Do spiders in the UK bite?
Most of the spiders we get in the UK couldn't even bite us if they wanted to as their fangs aren't powerful enough to penetrate our skin and their jaws don't open wide enough. There is a species of spider in the UK which is known to bite humans however, which is the "noble false widow" spider.
These arachnids originated in the Mediterranean and were first reported in the UK in the 1870s. They have since become one of the most common urban spiders in the UK, growing to around half an inch long.
They only bite when threatened and their bites are usually harmless, as their venom is not very potent, so no need to panic.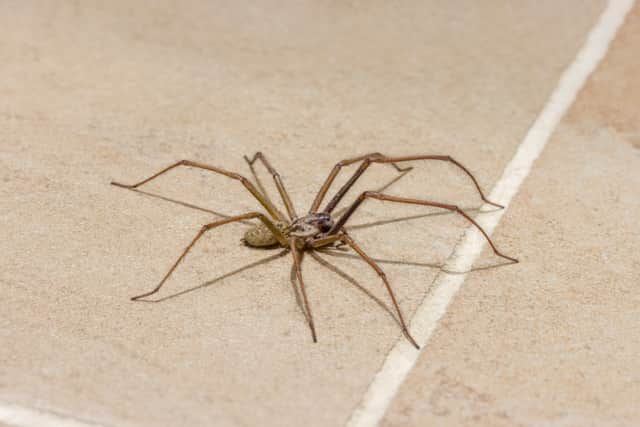 How to keep spiders at bay
You shouldn't kill a spider if you see one, as they are a vital part of the ecosystem. They're also handy to have around the home as they help control pests such as clothes moths, ants, flies and mosquitoes. Instead, try these non-fatal methods to deter them:
Add spider-repellent plants to your home such as lavender, mint, eucalyptus, and citronella - these are all strong smells that spiders hate
Remove hiding places such as piles of clothes
Remove webs
Turn off outdoor lights
Use a natural repellent spray or essential oils such as peppermint