UK's most dog-friendly cities revealed based on pet-friendly cafes, green spaces and more
Experts have compared several 'dog-friendly' factors in 48 UK towns and cities in order to find out which are the best
Watch more of our videos on Shots!
and live on Freeview channel 276
Visit Shots! now
With a new year, comes new adventures, which means leaving your four-legged friends behind. This can be a hard thing to do for many reasons, not least that many want their furry family members to be involved in their memories.
If you're looking to take your pet along on your trip this year, look no further, as experts at Lords and Labradors have compared 48 UK towns and cities to find out which are the most dog-friendly. The study looked at a number of factors such as the number of green spaces and parks and number of pet friendly restaurants, to find out where is the best spot to own or holiday with your pooch.
London took the top spot on the list With 3,000 parks and green spaces in the city, as well as an abundance of dog-friendly restaurants and cafes, the capital scored a 99% dog-friendly rating with 331 points.
The study, by luxury British pet brand, Lords and Labradors, compared several 'dog-friendly' factors in 48 UK towns and cities. In order to determine where is best they looked at the following things in each city:
Number of dog-friendly restaurants and cafes  
Number of green spaces and parks in each city  
Number of vets per city that treat dogs  
Number of local pet shops  
Number of dog walkers and sitters  
Number of dog groomers  
Number of dog-friendly shops   
With the findings in mind, Johanna Buitelaar Warden, Founder of Lords and Labradors has shared their top tips for dog owners keen to explore more of what the UK's towns and cities have to offer.
Buitelaar Warden said: "Much like with humans, visiting busier locations can be somewhat of a sensory overload for your four-legged friend due to all the new sights, smells, and noises that come along with them.
"Alongside ensuring you pack plenty of treats, toys, and other items that offer comfort and familiarity for your pup, starting work on basic training cues and ensuring your dog is traffic-savvy is key."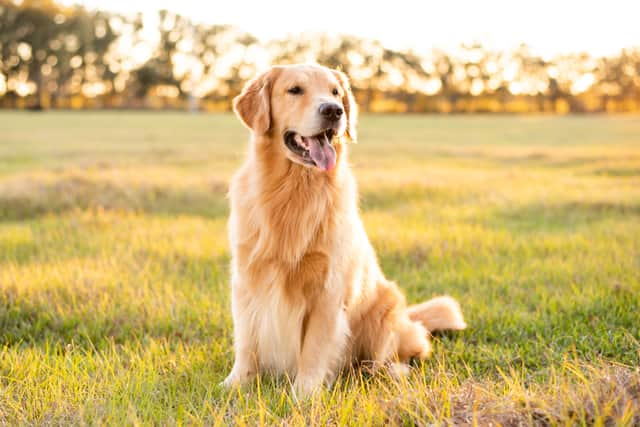 Buitelaar Warden adds that ensuring your dogs know commands such as sit, wait, leave and curbing is important when taking your dog on any outing no matter how dog-friendly the city. So, what are the best places to take your dog on adventure? Here's the full list of the most dog-friendly places in the UK.
Top 48 dog-friendly places in the UK
Here is the full list of cities, the points they got from their dog-friendly attractions and what percentage dog-friendly the place is:
London - 331 - 99% 
York - 291.5 - 87% 
Glasgow - 288.5 - 86% 
Manchester - 286.5 - 85% 
Cambridge - 279.5 - 83% 
Derby - 277.5 - 83% 
Leicester - 274 - 82% 
Nottingham - 262 - 78% 
Bristol - 253 - 75% 
Gloucester - 250 - 74% 
Northampton - 237 - 71% 
Oxford - 231.5 - 69% 
Leeds - 230 - 68% 
Cardiff - 221.5 - 66% 
Sheffield - 217.5 - 65% 
Durham - 216.5 - 64% 
Edinburgh - 208.5 - 62% 
Aberdeen - 197.5 - 59% 
Liverpool - 196.5 - 58% 
Norwich - 191.5 - 57% 
Birmingham - 189 - 56% 
Newcastle upon Tyne - 179 - 53% 
Swansea - 176 - 52% 
Plymouth - 169 - 50% 
Brighton - 167 - 50% 
Exeter - 156 - 46% 
Kingston upon Hull - 155 - 46% 
Southampton - 153.5 - 46% 
Peterborough - 149 - 44% 
Belfast - 143 - 43% 
Coventry - 140.5 - 42% 
Warrington - 133.5 - 40% 
Newport - 124 - 37% 
Bath - 122.5 - 36% 
St Albans - 114 - 34% 
Bradford - 111.5 - 33% 
Chelmsford - 109.5 - 33% 
Blackpool - 108.5 - 32% 
Carlisle - 107 - 32% 
Dundee - 92 - 27% 
Wrexham - 83 - 25% 
Portsmouth - 70.5 - 21% 
Wolverhampton - 56 - 17% 
Walsall - 55 - 16% 
Sunderland - 49.5 - 15% 
Lisburn - 49 - 15% 
Middlesbrough - 41 - 12% 
Derry - 39 - 12%