Sunstroke: What is heatstroke, how to treat it, how long can it last and what are the symptoms?
With warmer temperatures arriving in the UK its important to know how to keep you and those around you safe from sunstroke
Watch more of our videos on Shots! 
and live on Freeview channel 276
Visit Shots! now
With the UK entering warmer and brighter months, many of us will spend more time outdoors in the sun. But with all the joys of warmer weather, there is also the risk of sunstroke.
Many Brits have surely experienced heat exhaustion, especially during the last few years of intense heat waves with days of record high temperatures. And while heat exhaustion can be treated without seeking any medical attention, it can develop into sunstroke, which in extreme cases can be life threatening.
Here are some tips on what to look out for and how to treat heatstroke and heat exhaustion, in case you or someone you know is affected during the warmer weather set to hit the UK.
What is sunstroke and what are the symptoms?
Heat exhaustion can occur after having been exposed to higher temperatures for a prolonged period of time. Accordion to the NHS, the main symptoms to look out for are:
tiredness
dizziness
headache
feeling sick or being sick
excessive sweating and skin becoming pale and clammy or getting a heat rash. A change in skin colour can be harder to notice in brown or black skin.
cramps in the arms, legs and stomach
fast breathing or heartbeat
a high temperature
being very thirsty
weakness
The symptoms are often the same in adults and in children, but children can also become irritable as a result.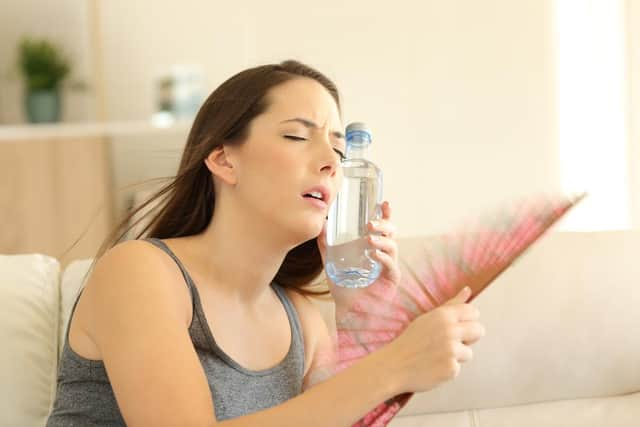 While heat exhaustion usually doesn't require emergency medical attention, as long as the person affected is cooled down within 30 minutes, prolonged heat exhaustion and sunstroke needs to be treated as an emergency.
Heat exhaustion can develop into heatstroke, or sunstroke, which is when the body no longer is able to cool itself down. Anyone who develops sunstroke may feel confused, experience shortness of breath and have a temperature of 40C, or even higher.
It may also cause the victim to lose consciousness, have a fit and become unresponsive. If you suspect someone might have sunstroke, it is important you call 999 immediately.
How to prevent and treat sunstroke and heat exhaustion
Heat exhaustion and sunstroke can affect anyone when the weather is hot. It's important to know how to notice early symptoms in order to prevent it from developing and to keep you and your friends and family safe in the hot weather.
According to the UK Health Security Agency (UKHSA), it is advised to avoid the sun and physical exertion between 11am and 3pm, when the sun is the hottest. It is also recommended to stay in the shade, wear sunscreen and a protective hat, drink lots of water and avoid alcohol.
The NHS recommends the following to avoid heat exhaustion and heat stroke:
drink more cold drinks, especially if you're active or exercising
wear light-coloured, loose clothing
avoid the sun between 11am and 3pm
avoid excess alcohol
avoid extreme exercise
if you're inside on a very hot day, close curtains, close windows if it's hotter outside than in your home and turn off electrical equipment and lights that get hot
It is important you call 999 if anyone is showing signs of heatstroke:
still unwell after 30 minutes of resting in a cool place, being cooled and drinking fluids
a very high temperature
hot skin that's not sweating and might look red (this can be harder to see on brown and black skin)
a fast heartbeat
fast breathing or shortness of breath
confusion and lack of coordination
a seizure or fit
loss of consciousness
Put the person in the recovery position if they lose consciousness while you're waiting for help.