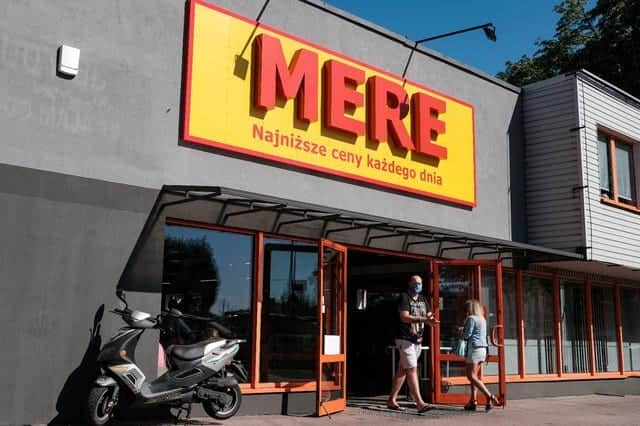 A budget supermarket chain from Russia has revealed plans to open 300 stores in the UK over the next eight years.
Founded in Siberia, in 2009, the company - known in its home country as Svetofor - has been opening stores across Europe under the Mere name since 2018.
The company already has stores in Germany, Poland, Latvia, Ukraine, Romania and Lithuania and is expanding into the UK, Spain, Italy, Greece and Bulgaria.
The first shop to throw open it's doors in the UK is reportedly in Preston's Ribbleton next month – with claims produce will be 30% cheaper than other UK supermarkets.
Speaking to The Grocer earlier this month, Mere's head of UK buying Pavels Antonovs said the chain would fill a "gap in the market" in the UK, with no competitors as their model is based on no service and no marketing.
Mere is known to have adopted a 'no-frills' model of food shopping – it sees suppliers deliver directly to its supermarket stores, which double up as the company's warehouses.
Each Mere store in the UK will be around 10,000 sq ft, include a walk-in chiller room and a huge freezer to allow multi-temperature ranges to be sold directly from the pallet they arrive on.
There is little in the way of shopping experience, with the company priding itself on simplicity and likening its model to Costco but with no membership fee and no in-store service.
Each store will have a maximum of 1,200 SKUs - different items on sale - which is slightly less than Aldi (1,400 SKUs) and much less than more traditional supermarkets in the UK.
There will only be eight members of staff in store - a director, four cashiers and three who handle deliveries - with bosses sights set on three other UK locations in Castleford, Mold and Caldicot in the near future.