Taxi driver for Prince Harry and Meghan speaks out after 'near catastrophic' car chase with paparazzi
The taxi driver who was involved in what has been characterised as a  "near catastrophic" car chase with paparazzi while driving Prince Harry and Meghan Markle has spoken out following the incident.
Watch more of our videos on Shots! 
and live on Freeview channel 276
Visit Shots! now
The Duke and Duchess of Sussex claim they were involved in a two hour car chase with paparazzi after attending an award ceremony in New York this week. The incident, which also involved Meghan's mother, Doria Ragland, was described as "near catastrophic" and a "relentless pursuit" by a spokesperson for Prince Harry.
The New York Police Department (NYPD) said the couple had been driven around 57th Street, FDR Drive and nearby roads for about an hour and 15 minutes as they were followed by paparazzi. They were then dropped off at the NYPD's 19th precinct, where they were picked up by taxi driver, Sukhcarn Singh.
Mr Singh said they were followed by paparazzi throughout their journey, but didn't think that the incident was "near catastrophic". Speaking to NBC News about the couple's description of the situation, Mr Singh said: "I think that's all you know, exaggerated and stuff like that. So don't read too much into that, you know.
"New York City is the safest place to be. There's police stations, there's cops on every corner, so there's no reason to be afraid in New York." Mr Singh has said he never felt like he was in danger, dismissing suggestions that it was like a car chase and revealed that the couple tipped him $50 (£40) for the 10-minute drive."
Security for Harry and Meghan claimed that they were being pursued by cars, mopeds and electric bikes that at times mounted the pavement to keep up with the couple's vehicle.
The spokesperson for Prince Harry said: "This relentless pursuit, lasting over two hours, resulted in multiple near collisions involving other drivers on the road, pedestrians and two NYPD  officers.
"While being a public figure comes with a level of interest from the public, it should never come at the cost of anyone's safety. Dissemination of these images, given the ways in which they were obtained, encourages a highly intrusive practice that is dangerous to all involved."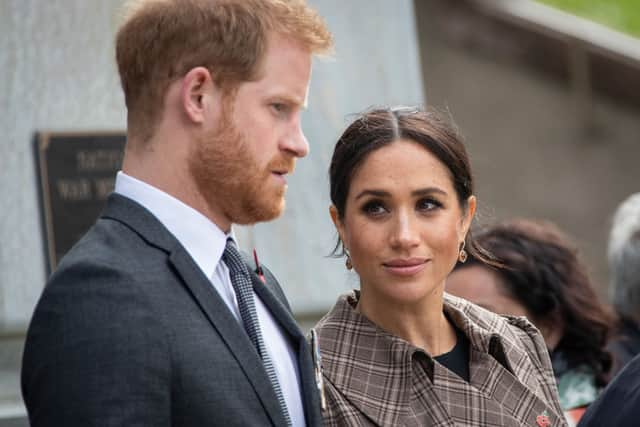 A spokesperson for the NYPD said: "On Wednesday evening, May 16, the NYPD assisted the private security team protecting the Duke and Duchess of Sussex. There were numerous photographers that made their transport challenging. The Duke and Duchess of Sussex arrived at their destination and there were no reported collisions, summonses, injuries, or arrests in regard.''