Taylor Swift Era's tour: Every surprise song, full setlist and when the 'Speak Now' singer will perform next?
Swifties have been devastated every time Taylor Swift performs a new surprise song on The Era's Tour so here's every one she has played so far
Watch more of our videos on Shots! 
and live on Freeview channel 276
Visit Shots! now
Taylor Swift's The Era's Tour continues to be the biggest shows to ever hit stages across the US (and soon the UK). From breaking records in each city she has visited, to recieving special welcomes that include being named temporary Mayor of Tampa, the hype has hit everyone.
The singer is showing no signs of slowing down, and following the release of her third rerecord Speak Now (Taylor's Version) she has added another permanent song to the already three hour long setlist. The 45 song long show takes Swifties through her entire career, so whether you're a Fearless Swiftie or a Reputation girlie there is something for everyone. And while most of us have seen countless clips from the special night, the singer stays true to form with keeping fans on their toes by performing not one, but two surprise songs at every show.
The tour marks Taylor Swift's first tour in five years, so the excitment was to be expected. As soon as Swift took to the stage on the opening night of her show in Glendale, Arizona the internet was filled with spoilers about her setlist, outfits and clips of the starlet singing.
The fun addition of surprise song is just that extra something that will make each show special for individual fans, though it has led to some pretty devastated fans on the internet. Don't worry if you missed out on Clean, she messed up and has to play it again. We're sure we won't be the only one's hoping she messes it up until she gets to the UK.
Swift even changed an official setlist song for her first night in Arlington, and did the same for her first night in Florida. The singer changed out Invisible Strings from Folklore for The 1 from the same album, afterwards she  said: "You think you can just scroll and know the setlist? You think you can come prepared? Let it be said about "The Era's Tour", we're tricksy. We've got a health setlist hi-jinx. So, I played a new song, did you like it?"
As usual for Swifties, we're being kept on our toes. So, what have been the surprise songs on the Era's tour so far? Here's every surprise song including the era they are from and what night Taylor Swift performed them.
Where will Taylor Swift perform next on The Era's Tour?
Taylor Swift will next perform on May 14, at the Lincoln Financial Field in Philadelphia.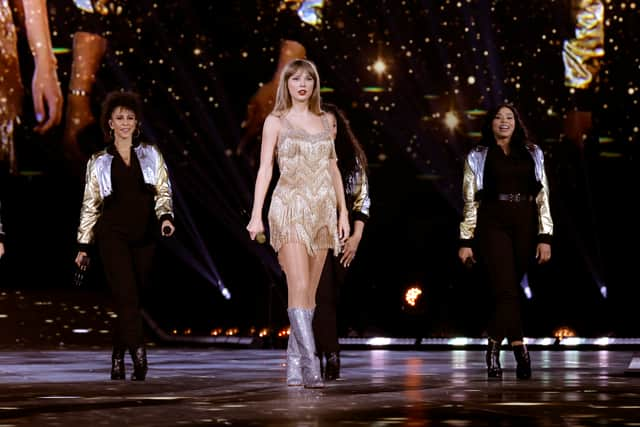 Every surprise song Taylor Swift has performed on the Era's tour
State Farm Stadium - Arizona (March, 17)
Mirrorball - Folkore
Tim McGraw - Taylor Swift
State Farm Stadium - Arizona (March, 18)
State Of Grace - Red (Taylor's Version)
This is me trying - Folklore
Allegiant Stadium - Las Vegas (March, 24)
Our Song - Taylor Swift
Snow On The Beach - Midnights
Allegiant Stadium - Las Vegas (March, 25)
Cowboy like me - Evermore (with Marcus Mumford)
White Horse - Taylor Swift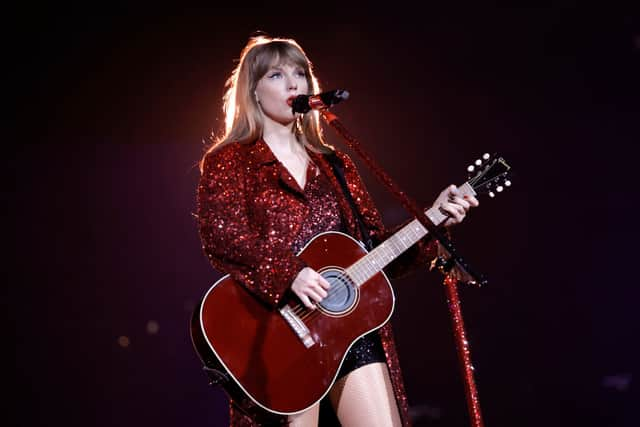 AT&T Stadium - Arlington (March, 31)
Sad Beautiful Tragic - Red (Taylor's Version)
Ours - Speak Now
AT&T Stadium - Arlington (April, 1)
Death By A Thousand Cuts - Lover
Clean - 1989
AT&T Stadium - Arlington (April, 2)
Jump Then Fall - Fearless (Taylor's Version)
The Lucky One - Red (Taylor's Version)
Raymond James Stadium - Tampa, Florida (April, 13)
Speak Now - Speak Now
Treacherous - Red (Taylor's Version)
Raymond James Stadium - Tampa, Florida (April, 14)
The Great War - Midnights (with Aaron Dessner)
You're On Your Own Kid - Midnights
Raymond James Stadium - Tampa, Florida (April, 15)
Mad Woman - Folklore (with Aaron Dessner)
Mean - Speak Now
NGR Stadium - Houston, Texas (April, 21)
Wonderland - 1989
You're Not Sorry - Fearless (Taylor's Version)
NGR Stadium - Houston, Texas (April, 22)
A Place in This World - Taylor Swift
Today Was A Fairytale - Fearless (Taylor's Version)
NGR Stadium - Houston, Texas (April, 23)
Begin Again - Red (Taylor's Version)
Cold As You - Taylor Swift
Mercedes Benz Stadium - Atlanta, Georgia (April, 28)
The Other Side of the Door - Fearless (Taylor's Version)
Coney Island - Folklore
Mercedes Benz Stadium - Atlanta, Georgia (April, 29)
High Infidelity - Midnights
Gorgeous - Reputation
Mercedes Benz Stadium - Atlanta, Georgia (April, 30)
I Bet Your Think About Me - Red (Taylor's Version)
How You Get The Girl - 1989
Mercedes Benz Stadium - Atlanta, Georgia (April, 30)
I Bet Your Think About Me - Red (Taylor's Version)
How You Get The Girl - 1989
Lincoln Financial Field - Philadelphia, Pennsylvania (May, 12)
Gold Rush - Evermore
Come Back...Be Here - Red (Taylor's Version)
Lincoln Financial Field - Philadelphia, Pennsylvania (May, 13)
Forever & Always - Fearless (Taylor's Version)
This Love - 1989
Lincoln Financial Field - Philadelphia, Pennsylvania (May, 14)
'Hey Stephen' - Fearless (Taylor's Version)
'The Best Day' - Fearless (Taylor's Version)
Lincoln Financial Field - Philadelphia, Pennsylvania (May, 14)
'Hey Stephen' - Fearless (Taylor's Version)
'The Best Day' - Fearless (Taylor's Version)
Gillette Stadium - Foxborough, Massachusetts (May 19)
'Should've Said No' - Taylor Swift
'Better Man' - Red (Taylor's Version)
Gillette Stadium - Foxborough, Massachusetts (May 20)
'Question...?' - Midnights
'Invisible' - Taylor Swift
Gillette Stadium - Foxborough, Massachusetts (May 21)
'I Think He Knows' - 1989
'Red' - Red (Taylor's Version)
MetLife Stadium - East Rutherford, New Jersey (May 26)
'Getaway Car' (with Jack Antonoff) - Reputation
Maroon - Midnights
MetLife Stadium - East Rutherford, New Jersey (May 27)
'Holy Ground' - Red (Taylor's Version)
False God - Lover
MetLife Stadium - East Rutherford, New Jersey (May 28)
'Welcome To New York' - 1989
'Clean' - 1989
Soldier Field - Illinois, Chicago (June 2)
'I Wish You Would' - 1989
'the lakes' - Folklore
Soldier Field - Illinois, Chicago (June 3)
'You All Over Me' (with Maren Morris) - Fearless (Taylor's Version)
'I Don't Wanna Live Forever' - Fifth Shades of Grey soundtrack
Soldier Field - Illinois, Chicago (June 4)
'Hits Different' - Midnights ('Till Dawn Edition)
'The Moment I Knew' - Red (Taylor's Version)
Ford Field - Michigan, Detroit (June 9)
'Haunted' - Speak Now (Taylor's Version)
'I Almost Do' - Red (Taylor's Version)
Ford Field - Michigan, Detroit (June 10)
'All You Had To Do Was Stay' - 1989
'Breathe' - Fearless (Taylor's Version)
Ford Field - Michigan, Detroit (June 11)
'All You Had To Do Was Stay' - 1989
'Breathe' - Fearless (Taylor's Version)
Acrisure Stadium - Pennsylvania, Pittsburgh (June 16)
'Mr Perfectly Fine' - Red (Taylor's Version)
'The Last Time' - Red (Taylor's Version)
Acrisure Stadium - Pennsylvania, Pittsburgh (June 17)
'seven' (with Aaron Dessner) - Folklore
'The Story of Us' - Speak Now (Taylor's Version)
U.S. Bank Stadium - Minnesota, Minneapolis (June 23)
'Paper Rings' - Lover
'If This Was A Movie' - Fearless (Taylor's Version)
U.S. Bank Stadium - Minnesota, Minneapolis (June 24)
'Dear John' - Speak Now (Taylor's Version)
'Daylight' - Lover
Paycor Stadium - Cincinnati, Ohio (June 30)
I'm Only Me When I'm With You' - Taylor Swift
'evermore' - Evermore
Paycor Stadium - Cincinnati, Ohio (July 1)
'ivy' (with Aaron Dessner) - Evermore
'I miss you, I'm sorry' (with Gracie Abrams)
'Call It What You Want' - Reputation
Arrowhead Stadium - Missouri, Kansas City (July 7)
'Never Grow Up' - Speak Now (Taylor's Version)
'When Emma Falls In Love' - Speak Now (Taylor's Version)
Arrowhead Stadium - Missouri, Kansas City (July 8)
'Last Kiss' - Speak Now (Taylor's Version)
'dorothea' - Evermore
Full setlist Era's tour Kansas City
Swift performed 45 songs on opening night of 'The Eras Tour' in Kansas City. They were:
Miss Americana & the Heartbreak Prince
Cruel Summer
The Man
You Need to Calm Down
Lover
The Archer
Fearless
You Belong With Me
Love Story
'tis the damn season
Willow
Marjorie
Champagne problems
Tolerate it
...Ready for It?
Delicate
Don't Blame Me
Look What You Made Me Do
Enchanted
Long Live
22
We Are Never Ever Getting Back Together
I Knew You Were Trouble
All Too Well (10 Minute Version)
The 1
Betty
The Last Great American Dynasty
August
Illicit affairs
My tears ricochet
Cardigan
Style
Blank Space
Shake It Off
Wildest Dreams
Bad Blood
Surprise song (Death By A Thousand Cuts )
Surprise song (Clean)
Lavender Haze
Anti‐Hero
Midnight Rain
Vigilante Shit
Bejeweled
Mastermind
Karma