UK's first 'dog midwife' helps pregnant owner through childbirth in maternity ward
A dog has helped her pregnant owner through childbirth inside a maternity ward at Milton Keynes University Hospital.
Watch more of our videos on Shots! 
and live on Freeview channel 276
Visit Shots! now
A dog has helped her pregnant owner through childbirth in what is believed to be one of the first instances of a dog in the UK being allowed in a hospital labour room. Amee Tomkin's assistance dog, Belle, two, accompanied her through fertility treatment, as well as scans and midwife appointments throughout her pregnancy.
And the pooch was so well behaved that Milton Keynes University Hospital, Bucks, allowed her to support a nervous Amee on the maternity ward before having a caesarean operation in April. Belle was even waiting for Amee as she came out of theatre and was the first to meet Olly, her new-born son.
According to Amee, 33, Belle has been trained to be an assistance dog since she was a tiny pup, helping her deal with her autism, anxiety and panic attacks. Amee, from Milton Keynes, said: "Belle was waiting patiently in the hospital room when I went to the theatre to have my baby. And when I was wheeled back, she was the first to meet Olly - I couldn't have done it without her."
Amee, who bought Belle in 2021, said she has struggled with autism, OCD and anxiety throughout her life, but instantly felt a connection with the pup. The now mum-of-one trained her up as an assistance dog, and from the beginning, it was clear Belle was a natural.
For the past 18 months, the dog has accompanied Amee wherever she goes, and when she fell pregnant with her son after 12 years of fertility treatment, nothing changed. Together they attended appointments and scans throughout her entire pregnancy - and Amee says her midwife was taken aback by Belle's beautifully calm nature.
Amee said: "Belle can detect symptoms of a panic attack, and does things like help me find exits in crowded places if she senses I'm feeling anxious. She presses buttons on lifts and she even holds my debit card against the machine to pay for things when we're shopping.
"Basically, without her, I'm too anxious to leave the house. I'd just stay indoors all day and every day. She came with me to all my appointments during my pregnancy and kept me calm - I couldn't have done it without her."
The prospect of giving birth without Belle by her side was worrying for Amee, so her midwife asked Milton Keynes University Hospital if she could accompany her on the ward. They agreed, and doctors allowed her to sleep on Amee's hospital bed, where she'd rest her nose gently on her bump, near her belly button.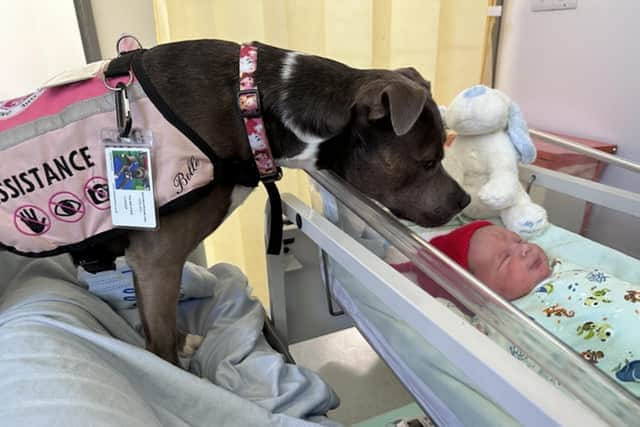 Amie said: "It was as though she was checking the baby's heartbeat when I was pregnant. She even learned to tell the difference between the baby's heartbeat and my own… It was such a reassurance.
"It was decided a C-Section would be better for my anxiety and autism as I'd know exactly what was happening. Belle was allowed to stay with me before I went to the theatre and we were given our own room so she could stay with me and the baby afterwards.
"As soon as she saw Olly, she gently sniffed him then gave his face a tiny lick to welcome him… Since then she has never left his side."