UK's ugliest dog: Peggy the pug named country's least attractive pup - what the owner says
Photography company ParrotPrint said Peggy stood out from the crowd with her wonderful entry picture, crowning her the winner of UK's ugliest dog.
Watch more of our videos on Shots! 
and live on Freeview channel 276
Visit Shots! now
Peggy, a five-year-old pug from East Yorkshire, has been named the UK's ugliest dog. The beloved family pet , which is a cross between a pug and a Chinese crested, was crowned the winner by photography company ParrotPrint, besting six other entrants from throughout the country.
After launching their competition in late 2022, the company said that despite receiving a deluge of entries that they deemed to be "too cute to be serious candidates," Peggy, an early entry, simply stood out from the crowd.
It said: "Peggy was the exception…Using her wonderful entry picture, featuring her wearing a pearl necklace, we called out for more ugly dogs to enter the contest, and that was when the phone started to ring off the hook with the media wanting to speak to Holly and meet Peggy."
Since she was featured as one of the finalists, Peggy helped promote the competition by appearances on BBC Breakfast, ITV's This Morning, Channel 5 News, BBC Radio Five Live, BBC Look North and many other media platforms, said the firm.
But Peggy's success is a classic example of a rags to riches story. According to ParrotPrint, the dog started life as the runt of an accidental litter, and was the last one to be homed after all her brothers and sisters were selected for adoption.
As her siblings were taken away, one by one, to loving homes Peggy remained unwanted, with families perhaps put off by her unique appearance. She remained with her mother's family for six long months as they desperately searched for a new home for her.
Peggy's luck finally changed when mum-of-two Holly Middleton came to take a look at the puppy no one wanted - and fell in love at first sight. She said: "We came across Peggy online at the end of 2018, she was six months old and the last remaining pup of an accidental litter.
"All the other pups had new homes but I imagine people looking at her saw nothing but a high maintenance dog and the possibility of health issues. We loved her the Instant we laid eyes on her with her big brown eyes, little tuft of white hair and her tongue lolling out to one side. I just felt sorry for her, sat there with no hair and her tongue out.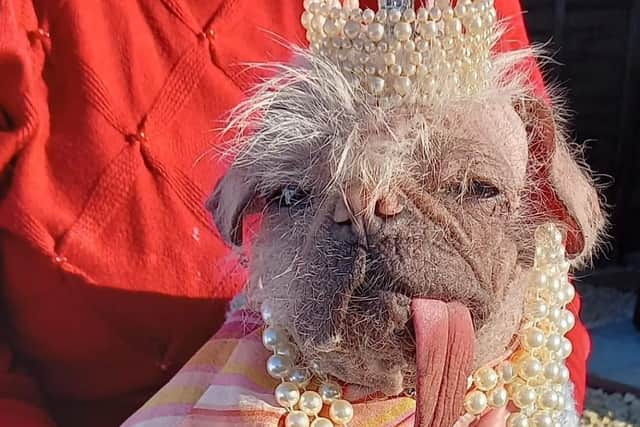 "She was six months old so I just felt like no one wanted her. We didn't set out to get a quirky dog, an underdog. I hope it encourages people to overlook the little oddities of those dogs left on the shelf.
"Luckily Peggy is a completely healthy and happy dog, her tongue doesn't cause her any issues, she can eat (and she really does love to eat) and drink with no problems, and other than having to wear jumpers for warmth in colder weather and sun cream in the summer she's exactly the same as any other dog."
Chief judge and ParrotPrint founder Matt Dahan said: "We all absolutely adore Peggy. When we launched this contest I never once thought we'd find a dog like her who manages to be both ugly and so, so cute all at the same time.
"She is so loved by Holly and her family which is fantastic to see. We're all really happy to name Peggy as the winner of our competition and we hope she enjoys her prize pamper session at the doggie spa, her photo session afterwards and Parrot Print canvas portrait."