If you prefer to stay in on Valentine's Day, the UK's leading supermarkets have released their romantic meal deals for 2023. If you are after a full three-course dinner or just some heart-shaped chicken nuggets, there will be something for everyone down the aisles of your favourite food shop.
Ahead of Valentine's Day, supermarkets including Tesco, Aldi, M&S, Asda and more have announced their romance-fuelled offering, with vegan and vegetarian options up for grabs alongside some fan-favourite dishes. Some supermarkets are also offering a bottle of bubbly so you can toast with your loved-one on February 14.
But what's on the menu at the UK's leading supermarkets for the day of love? Here's a full list of supermarket dine-in deals for Valentine's Day 2023.
Lovebirds will be able to get their hands on a Tesco Valentine's Day meal deal for just £12 this year. The offering contains a main, side, dessert and a drink.
The deal will be available in store from February 9, but you can only score the deal for £12 if you have a Tesco clubcard. If you're not part of the loyalty scheme, you will have to buy all the items separately for a costly £21.60.
The meal-deal contains items from Tesco's finest range, with a range of meat, vegetarian and fish dishes available. Tesco's main courses include two ranch steaks, a vegetable moussaka and a salmon gratin, while side dishes include truffle macaroni and cheese, heart-shaped potato croquettes and chunky chips.
There are a selection of desserts to choose from in the Tesco dine-in deal, including a vegan chocolate brownie heart, raspberry royale profiteroles and caramel melt-in-the-middle puddings.
To wash down your romantic feast, Tesco are offering a bottle of malbec, sauvignon blanc, cinsault rosé or prosecco. If you prefer a soft drink, options include glass bottles of diet Coca-Cola, Coca-Cola Zero or Bottle Green Elderflower and Raspberry.
See the full list of items in Tesco's dine-in deal here.
M&S is offering a dine-in deal for two this year which will be available in-store from February 9. The meal deal includes a starter, main, side dish and dessert alongside a bottle of bubbly for just £20.
Starters include luxury prawn cocktails, cheese and leek souffle tarts, and a triple cheese bake, while mains include rump steaks with peppercorn sauce, butternut squash risotto and chicken cordon bleu.
Side dishes to compliment the main meal include rosemary hasselback potatoes, asparagus spears and triple-cooked chips. Dessert fans will be delighted as M&S will be offering sweet dishes including chocolate melt-in-the-middle puddings, zingy lemon cheesecakes and a raspberry profiterole stack.
Drinks are also a part of the dine-in deal, with options including a bottle of chardonnay, prosecco and pink raspberry lemonade.
See the full list of items on M&S' dine-in deal here.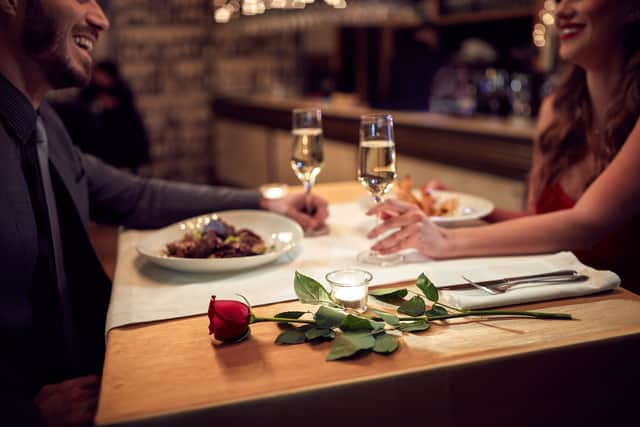 Aldi will not be offering an exclusive dine-in deal this year for Valentine's Day. However, customers can mix-and-match Valentine's themed items to form their very own meal deal.
The cheapest option, including a starter, main and a dessert is priced at £7.67 - or £3.84 each. There is also the option to add a bottle of wine for extra cost.
This offering includes garlic bread, lobster filled pasta and a chocolate melt. If you wish to add a bottle of Grapevine pinot grigio to your meal deal, the total bill will go up by £3.99.
Aldi are also offering vegetarian options, including mushroom arancini, a vegan pie and a vegan chocolate melt. Other Valentine's Day food items at Aldi include the Chicken Love Nuggets (£2.99) and the Valentine's Heart Shaped Cookie (£2.49)
Aldi shoppers will be able to grab the Valentine's menu items in store from February 9. However, you will have to act fast as the deal has proven to be popular in the past and the items will be subject to availability.
See the full list of Aldi's Valentine's Day meal options here.
Asda is offering a Valentine's dine-in deal for two priced at £15 this year. The three-course meal is made up of a starter, main meal, two sides, a dessert and either a bottle of wine or a box of chocolates.
Those signed up to Asda's Rewards app will also receive a Sky Movies voucher worth £5.49 as part of the deal. The romantic offering will be available both in store and online from February 9.
Couples will be able to choose from starters including chicken liver parfait, truffle macaroni and cheese or vegan mushroom arancini hearts. Mains include 30-day dry aged sirloin steaks with smoked garlic butter, garlic-stuffed pork kiev cutlets, and duck breasts with morello cherry sauce.
Side dishes include chantenay carrots with citrus yuzu, triple cooked chips and dauphinoise potatoes. Desserts range from Italian espresso tiramisu cups or a dark Belgian chocolate heart with raspberry, washed down with a glass of malbec or sauvignon blanc.
The full list of Valentine's Day menu items at Asda can be found here.
Lidl may not be promoting a Valentine's meal deal this year, but the supermarket will be offering customers a range of treats for the day of love.
Valentine's dishes include heart-shaped grana padano cheese for £2.49 or heart-shaped ravioli with ricotta cheese for £2.29. These items will be available in store on February 9, while stocks last.
Morrisons is offering a meal deal for two this Valentine's Day, priced at £15 for customers with a My Morrisons card. Those without the rewards card can pick up the meal deal for £17.
The deal includes a three course meal- one starter, one main, two sides and two desserts - and also comes with a soft drink or a bottle of wine.
Starters include a camembert heart, mushroom Pâté or an antipasti selection, while mains include coq au vin, beef wellington or spaghetti carbonara.
Side dishes to compliment the main meal include triple-cooked chunky chips, garlic ciabatta breadsticks and maple roasted carrots and parsnips.
Those with a sweet tooth can choose a wide-range of desserts including mango and passionfruit cheesecake wedges, Gü dessert pots and a raspberry panna cotta. Customers can choose a bottle of prosecco, pinot grigio rose or sparkling raspberry lemonade to finish off the meal deal.
See the full Morrisons dine-in deal here.
Couples can get their hands on a Sainsbury's meal deal this Valentine's Day for £15. The supermarket is offering a starter, main, side, dessert and drink for the romantic menu, available in stores from February 8.
Shoppers can choose from a variety of starters, including a scallop gratin or an antipasti platter. Main dishes include sirloin steak, salmon en croute or a plant-based Wellington which can be accompanied by cauliflower cheese, mashed potatoes or triple-cooked chips.
Dessert choices range from a vegan raspberry and chocolate torte to white chocolate profiteroles with strawberry crème patissiere filling. Drinks choices include a bottle of prosecco, sauvignon blanc or Shloer sparkling juice.
Find the Sainsbury's Valentine's dine-in range here.
Waitrose shoppers can get their hands on a dine-in deal for £20 this Valentine's Day. The deal includes one starter, one main, two sides, one dessert, plus the choice of a bottle of drinks or box of chocolates.
Meat eaters can choose from a bloody mary prawn cocktail starter, beef rump steaks with chimichurri butter for main with a side of frites and a rhubarb and custard love heart for dessert. Diners will be able to wash down their indulgent meal with a bottle of rioja.
If you follow a vegan diet, you can feast on a starter of mushroom parfait, a PlantLiving no-beef bourguignon main with a side of PlantLiving dauphinoise potatoes, and a churros dessert, complimented by a bottle of Rioja.
The full list of Waitrose's Valentine's Day dine-in deal is available here, available in store from February 8.