Watch the moment Speaker Sir Lindsay Hoyle 'snaps' at Kemi Badenoch as pair lock horns in House of Commons
Conservative MP Kemi Badenoch receiving an 'angry' dressing down in the House of Commons from Speaker of the House, Lindsay Hoyle
Watch more of our videos on Shots! 
and live on Freeview channel 276
Visit Shots! now
Footage has emerged showing Conservative MP Kemi Badenoch receiving an 'angry' dressing down in the House of Commons from Speaker of the House, Lindsay Hoyle. The Business and Trade Secretary came under fire following the government's decision to ditch plans to allow thousands of EU-inherited laws to expire by the end of the year.
Criticised for her decision to announce the plans in a newspaper before informing the house, Ms Badenoch told the speaker: "I'm very sorry that the sequencing that we chose was not to your satisfaction."
Hoyle responded angrily, noting Ms Badenoch's behaviour as 'totally unacceptable'. He said: "Who do you think you're speaking to Secretary of State? I think we need to understand each other.
"I am the defender of this House and these benches on both sides, I am not going to be spoken to by a Secretary of State who is absolutely not accepting my ruling.
"Take it with good grace and accept it, that members should hear it, first not a WMS or what you decide."
He continues: "These members have been elected by their constituents and they have the right to hear it first and it is time this Government recognised we're all elected, we're all Members of Parliament and used the correct manners."
Ms Badenoch responded: "I apologise, what I was trying to say was that I'm very sorry that I did not meet the standards which you expect of secretaries of state, forgive my language."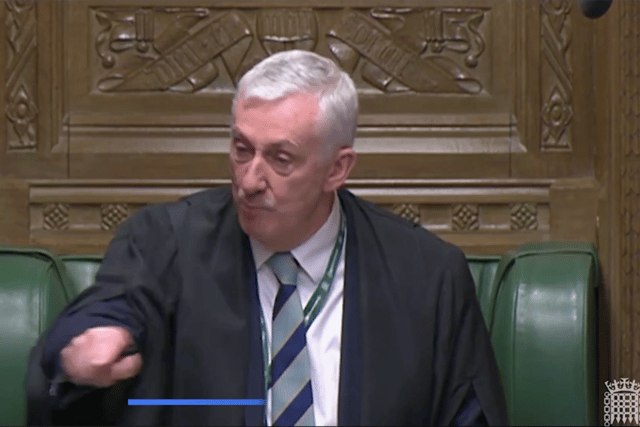 The government's plan to ditch the deadline for expiring EU-era laws has triggered a reaction from both sides of the house. Tory Brexiteer Jacob Rees-Mogg has dubbed the move an "admission of administrative failure" while Labour labelled the plans an "humiliating u-turn."
Writing in the Telegraph, Ms Badenoch announced the original deadline would be replaced with a list of 600 laws the government wants to oust by the end of the year.
"Getting rid of EU law in the UK should be about more than a race to a deadline," she said.