Wetherspoons offer huge discount on number of products for a limited time only - here's what
The offer at Wetherspoons begins today and ends in under two weeks - in a year where the pub chain has faced many challenges including lack of tomatoes, eggs and raising prices of pints
Watch more of our videos on Shots! 
and live on Freeview channel 276
Visit Shots! now
Wetherspoons is offering a huge discount on a number of selected beers for a limited time only. The offer started on Wednesday March 22 and is set to end soon, ending on Sunday, April 2. The offer will see prices slash on certain beers, costing just £2.15.
This comes after Wetherspoons recently announced that as of Tuesday (March 21) they would be serving a variety of dishes including steaks, burgers and their popular breakfasts without tomatoes due to a nationwide shortage.
Wetherspoons has explained the news, saying: "There is a national supply issue affecting tomato and cucumber in some pubs. This means some menu dishes, such as breakfasts, burgers and steaks, will be served without tomatoes."
The new beer offer is available across all 844 Wetherspoons pubs across the UK, which is sure to delight regular pub goers after the chain has suffered some setbacks already this year.
Full list of ales included in the deal: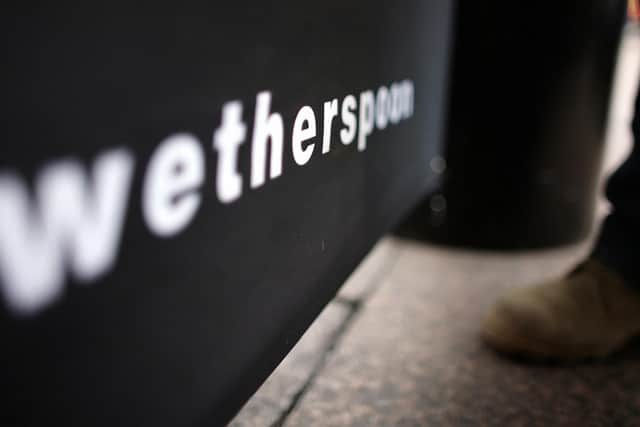 Robinsons Brewery, Citra Pale Ale 3.4% ABV
Rooster's Brewery, Blind Jack 3.7% ABV
Wainwright, Amber 4.0% ABV
Butcombe Brewery, Vincent 4.0% ABV
JW Lees Brewery, Vanilla Cream Pale 4.0% ABV
Vale Brewery, Brass Monkey 4.0% ABV
Exmoor Ales, Upside Brown 4.2% ABV
Hook Norton Brewery, Merula Stout 4.2% ABV
Theakston Brewery, Double Cross IPA 4.2% ABV
Adnams Brewery, Extra 4.3% ABV
Daleside Brewery, Seafever 4.3% ABV
Kirkby Lonsdale Brewery, 1822 4.3% ABV
Greene King Brewery, Spring Break 4.4% ABV
Sudwerk Brewery, Reeds Ale 4.4% ABV
Glamorgan Brewery, Fresh 4.5% ABV
Redemption Brewery, Steam 4.5% ABV
Brombeer Compagnie, Freddy Export 4.6% ABV
Titanic Brewery, EBA 4.6% ABV
Cairngorm Brewery, White Lady 4.7% ABV
Orkney Brewery, Cliff Edge 4.7% ABV
Liberation Brewery, Defiant ESB 4.8% ABV
Moorhouse's Brewery, Totemic 4.8% ABV
Saltaire Brewery, Triple Choc 4.8% ABV
Batemans Brewery, Spring Breeze 5.0% ABV
Hawkshead Brewery, Five Hop 5.0% ABV
Nethergate Brewery, Umbel Magna 5.0% ABV
Sambrook's Brewery, Valhalla 5.0% ABV
Oakham Ales, Buckle Up! 5.2% ABV
Otter Brewery, Head 5.8% ABV
Cambridge Brewing, Flower Child IPA 6.0% ABV