Woman reunites with pet cat missing for almost 3 months in adorable video captured by family security camera
A family's security system caught the amazing moment a cat owner was reunited with her beloved pet after it had gone missing.
Watch more of our videos on Shots! 
and live on Freeview channel 276
Visit Shots! now
An adorable video of a woman reuniting with her beloved cat after it has been missing for 11 weeks has gone viral on social media. Amanda Appleyard, had been searching for her siamese cat, Rodd after he wandered off in October and never came back.
Amanda said: "Nearly every few days he would go roaming quite far. He would bring us a field mouse or two sometimes! I assumed this is what he had done again as of the 13th of October 2022 but by the 5th night I was worried with it coming up to Halloween and bonfire night he would get skittish and scared and possibly end up injured or freezing cold.
"These cats of mine are my everything, just like my kids, they mean the world. I could not sleep at night knowing he was not asleep inside with us," Amanda told The Yorkshire Post.
Amanda said she put up missing cat posters, and posts on Facebook pages and searched every night with a torch, but despite no luck, she never gave up hope.
However, on Boxing Day, Amanda and her family had just returned from a relative's house for Christmas and she heard Rodd meowing in her garden, and the family's security system caught the whole ordeal on camera.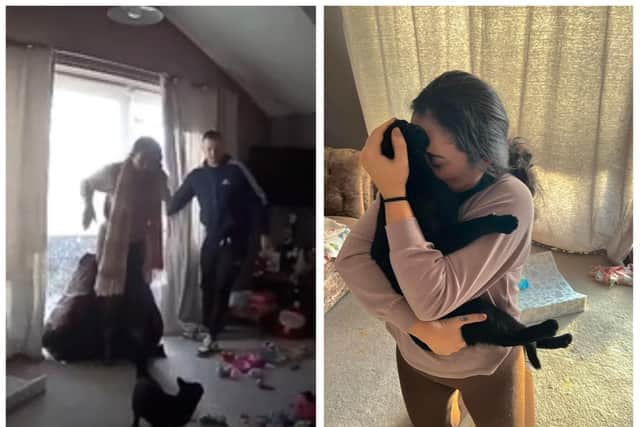 "I got out of the car first and as I am walking down the drive holding a hot chocolate I suddenly hear Rodd's meowing coming from our garden. I thought I was hearing things! I could not believe the sound I was hearing.
"As soon as I realise it is him I shout to my husband who is getting our daughter out of the car 'Rodds back! I then drop my hot chocolate and run as quick as I can to the garden gate," Amanda said.
The family's security system caught the entire special moment on camera which has now gone viral. The video shows Rodd re-familiarising himself with his surroundings, receiving cuddles from his doting owner, and re-introducing himself to the other family cat.
In just a few days the video has been viewed more than 100,000 times and liked more than 20,000 on a prominent group. Amanda described the reunion as 'the best Christmas present she could have ever wished for,' and said that at the moment Rodd is 'grounded' but she will see how long that lasts.