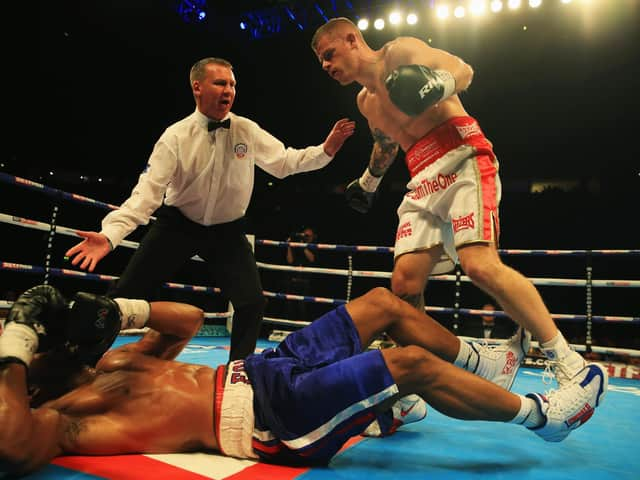 Callum Johnson is ready to show boxing fans just what they've been missing.
It may have been a frustrating period of inactivity for 35-year-old Johnson, but his stock remains high - and he is ready to show just why once again.
"It's strange really. It always seemed like when I was active I didn't quite get the credit I deserved," said Johnson, whose loyal fanbase have stuck by him, many showing their support on social media, over the past two years.
"Sometimes people take for granted what's there. Now I've been away for two years people are begging to see me back.
"Everybody's appreciating what they've been missing."
But it's not just the fans who have faith in Johnson, who has won British and Commonwealth light heavyweight titles as a pro.
"I'm still ranked number one in the country, I'm ranked number 13 in the world with BoxRec," he added.
"I'm number one in the UK with Boxing News, Boxing Monthly. I'm still recognised as number one in the country, but now I've got to prove it, I've got to go out and deliver."
Thirty-seven-year-old Markic - who Johnson says he is treating as if he's a world champion - has won 32 of his 34 fights, 24 by knockout.
And although Johnson - whose last fight was a stoppage against Seanie Monaghan in New York in March 2019 - isn't taking his opponent lightly, he believes victory could set him on the path to fulfilling his lifelong ambition.
"My goal is to get into that mix again and get that world title fight," added the Bostonian, whose only defeat in the pro ranks was against Artur Beterbiev in a bout for the IBF title.
"My main goal is to win a world title. That's where I'm headed and that's my main focus, getting to that world title fight, by whichever means possible.
"I'm not taking it for granted and looking past him but at the same time I have to set big goals.
"That doesn't mean I'm taking my eye of the ball."