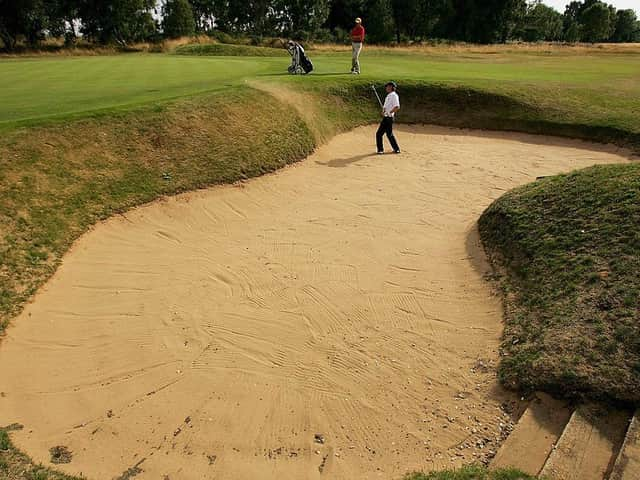 England Golf had hoped the sport could return sooner. Photo: Getty Images
National sporting governing bodies have reacted to the Government s roadmap, which aims to see outdoor sports return later this month.
It is hoped that action can resume from March 29.
England Golf say they are frustrated that courses cannot open earlier, but will begin work on the return of the sport.
"England Golf is extremely disappointed that the scientific evidence presented to government detailing how the sport can be played in a Covid-secure manner has not resulted in a return to play date earlier than 29 March," a statement read.
"We will now examine the details of the government's roadmap before making further comment and working with our community of clubs, counties and golfers to prepare for the game's safe return."
The Lawn Tennis Association hope that the resumption of sport can have a positive impact.
They said: "We are pleased that there is now a clear date for when outdoor tennis will be allowed to resume in England.
"We know sport has a key role in supporting the physical and mental health of the nation, so its return will give a boost to the whole country, and is very welcome.
"Clearly tennis is a naturally socially-distanced and safe activity and so we would have liked restrictions to be lifted without delay and made the case for this.
"However, we are now focussed on supporting venues, coaches, officials and players to prepare for the return of outdoor tennis on March 29."
England Hockey added: "As schools and colleges return to the classroom from Monday, March 8, we understand that sport in educational settings will be permitted, with full guidance to be confirmed.
"It is great news that the country will once again soon be able to experience the feeling of picking up a stick and returning to their hockey clubs.
"However, there are still a lot of unknowns at this stage. We and other national governing bodies now await further detail from the government with specific guidance of what can and cannot be done.
"In addition to the specific government guidance for grassroots sport, there will also be wider national considerations to factor in. For example, restrictions on travel and car-sharing, like those seen in October and November of last year, could greatly impact the level to which we are able to return.
"Once we have sight of the more detailed guidance and understand fully how this might impact our ability to return, we will revisit our official Return to Play guidance and documents and publish updated information."