With several local clubs having joined together over a period of time and now down to one, the club was named Gainsborough last summer and, although currently thriving, wants to plan well ahead and add players of all ages, male or female, to be the foundation for future sustainability.
Last season the first team were promoted as Bassetlaw & District League Division Two Champions, though their struggling second team were relegated to Division Six.
First team captain John Tittley said: "We did a big rebranding exercise last season to create Gainsborough CC.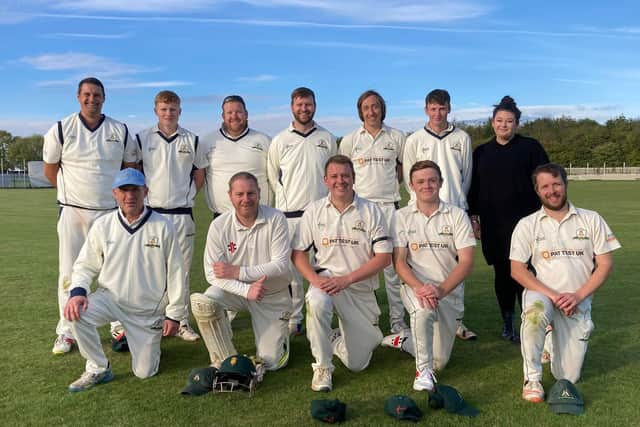 "Historically in Gainsborough there has been five or six cricket clubs 30 years ago but now there is only us on a Saturday after a lot of amalgamations of those clubs and players – Roses and Lea Park was the last main merger.
"We are in a strong position after the rebranding and we still play up at Marshalls, which was a newly-laid wicket a few years ago.
"We have a lot of youngsters coming through and a lot of experienced players as well.
"However, cricket on the whole nationally is on the dwindle a bit as it's not played in schools like it used to be for health and safety reasons or whatever else.
"So there is a lack of youngsters coming through generally. Most of the ones coming through are from cricketing families who have dads or brothers who have played in the past.
"We are trying our best to get into the schools to shout about having a club and get them to come and try out."
He added: "We are also well affiliated with Lincolnshire cricket and they are running Dynamos (girls aged 8-13) and All-Stars (boys and girls aged 5-8) cricket sessions for juniors two or three times throughout the year with participants getting a free cricket bat and ball and kit, including at our ground over the summer.
"We are very aware we need to be very forward thinking in terms of attracting experienced players who have stopped players and want to start up again, new people to the area who don't know what cricket there is locally, or youngsters who are eager to learn the game.
"We don't have a junior set up yet, but it is something we want to introduce. But if you are over 13 you are allowed to play in our division and come to net sessions. We do have qualified coaches here."
Matches are normally played on Saturday afternoons, with all home games being at the Marshalls Sports Ground in Gainsborough.
The club has net practice sessions booked at the Queen Elizabeth High School, Gainsborough, 7-8.30pm every Wednesday until 19th April.
For further details please contact one of the following: John Tittley on 07792 272564, second team captain Matthew Saunders on 07505594421, secretary Nick Ward-Lowery on 07464 614241 or chair Stuart Menzies on 07968 826232.