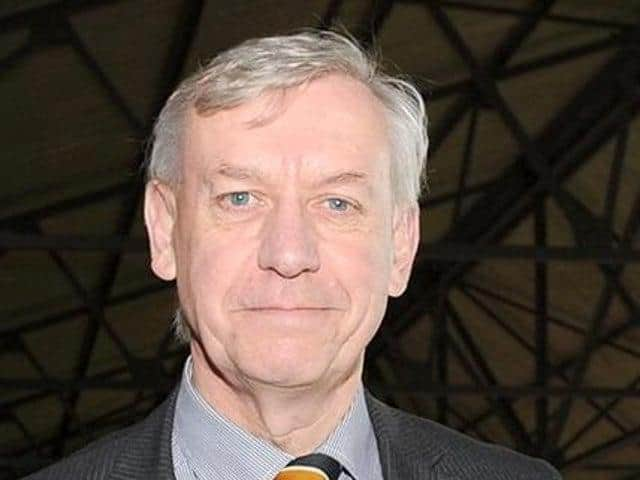 David Newton.
Boston United chairman David Newton has described the National League North season being declared null and void as a 'bitter blow'.
This evening it was announced the North and South divisions would not continue following voting from member clubs, 24-19 in favour from step two sides.
"While respecting the outcome of the vote that was announced earlier, we are extremely disappointed that the season has been declared null and void. We voted to continue believing, on balance, this was the right thing to do in the circumstances," Mr Newton said in a club statement.
"It has been a very difficult year for the club, not only dealing with the Covid implications, but also ensuring that the play-offs took place last season (with no income); the vacating of the York Street ground (with no final game for the fans to enjoy); being forced to withdraw from the FA Cup, being required to replay the Darlington fixture and, of course, trying to build the new stadium during the pandemic.
"All through this, the squad and management team have remained positive and have continued to work hard despite not knowing when the next fixture would be played. We all genuinely felt that we had a real chance of promotion this season."
Mr Newton also addressed the National Lottery grants which allowed the first three months of the season to take place and thanked fans for their support in a campaign played behind closed doors.
"This is therefore a bitter blow for everyone at Boston United - but of course this goes much wider," he added.
"The Government recognised what a huge contribution non-league clubs play in their communities, and the positive impact the club playing can have on the health and wellbeing of their fans, hence the fantastic support that was offered at the outset to ensure that the season could be commenced, albeit behind-closed-doors.
"For whatever reason the further funding that the clubs thought would be there did not materialise. Clearly many clubs did not wish to apply for the further funding that has subsequently been made available, hence the situation we now find ourselves in.
"We are incredibly grateful to all those that have raised funds to help though this period and, of course, our fantastic sponsors who still came forward, despite knowing that there was a possibility that the season may not be concluded. All those that purchased tickets and streaming passes have not only provided vital income, but also gave us a huge lift, knowing that you are still out there supporting the club, although we cannot be together.
"Furthermore, thanks to those who helped ensure we could safely continue to play matches, albeit behind-closed-doors.
"In voting to continue, we had hoped that fans would be allowed in for the concluding games of the season (with Covid restrictions in place), as we would have had to continue to play into June to complete all fixtures.
"We will now take time to consider the best way to move forward from here. Thanks once again for everyone's incredible support. Stay safe."