A special moment of celebration... and relief! Matt Hocking remembers scoring the goal which secured Boston United's Football League survival
Hometown hero reflects on winner against Macclesfield Town...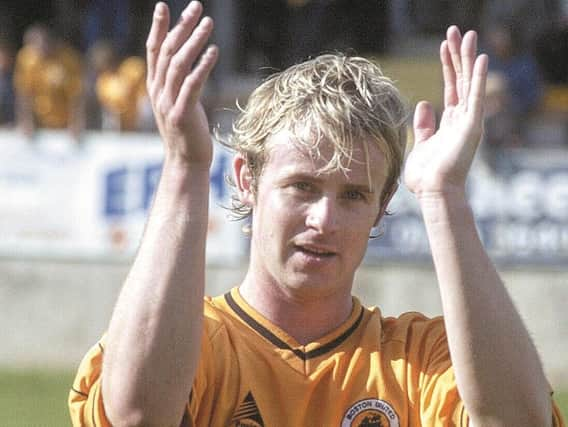 Football-mad kids across the globe dream of playing for their hometown club. Not only did Matt Hocking make that dream come true, he scored one of the most important goals in the club's recent history.
The defender only made it onto the scoresheet once for the Pilgrims in his 75 appearances for the club, but that headed finish was the winning goal against Macclesfield Town on April 26, 2003, which secured the club's survival in their first season in the Football League.
"I actually remember the moment pretty clearly as it was such an important game for us," Hocking said. "I remember the set piece from the left-hand side.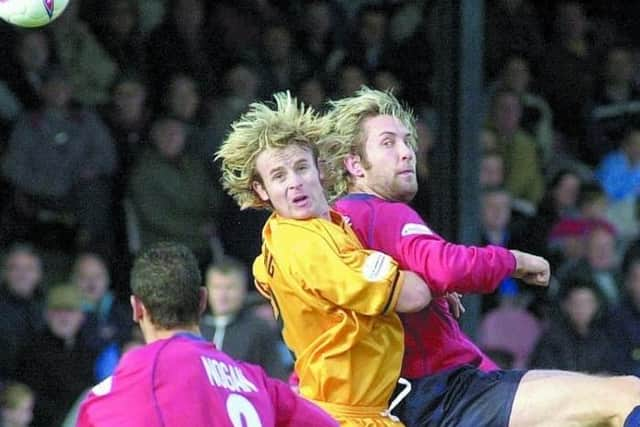 "As it was delivered into the box I managed to get in front of my marker and nod it in the near post past the Macclesfield Town goalkeeper Steve Wilson, who was a former teammate of of mine at Hull City.
"It was also a very special moment for me because I ran along the crowd high fiving the United fans in my celebration on the way towards the corner flag where my granddad was standing.
"I remember it well, as it was a feeling of not only celebration but also of relief."
Boston needed three points ensure their Football League status for a second term sand got off to a flying start as Peter Duffield netted from the penalty spot.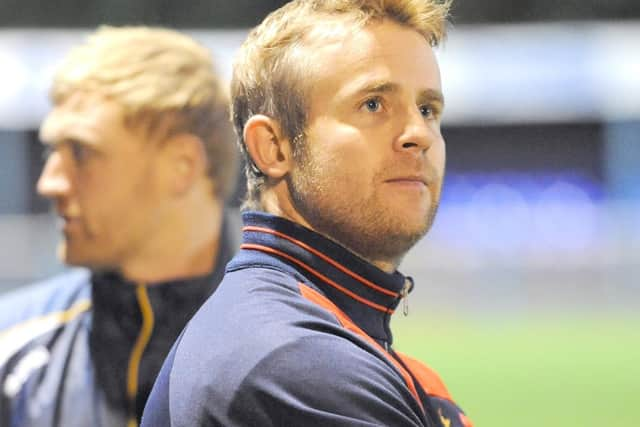 Hocking made it 2-0 before a response from Colin Little set up a nervy finish. But United held on for the points.
Hocking, now 42, joined the Pilgrims in the summer of 2002 after United had secured promotion to the Football League, pipping Dagenham and Redbridge to the Conference title on goal difference.
But an off-season of upheaval followed. The club was found to have lodged dual contracts to hide the full scale of some player salaries and were fined £100,000 and began the new season on minus 4 points.
Manager Steve Evans left the club and his number two Neil Thompson - Hocking's former manager at York City - took his place.
"It was a no-brainer for me to get the opportunity to play for my hometown club in the Football League," Hocking added.
"Neil Thompson was a great manager and coach, and to put the cherry on the cake, coming back to play at Boston United was an easy decision.
"I always remember watching Boston United as a child with my dad, and I distinctly remember running onto the field on the final whistle to try and get one of the players tie-ups to wear the next day for my game for Fishtoft Youth FC.
"I think like lots of my mates that also went to the matches, I dreamed of playing for my hometown club.
"To be honest personally I didn't even think about the point deduction once the season got started. I remember that Neil Thompson never really spoke to us players about it. He just had us focussed on each game."
Hocking cut his teeth at Sheffield United, moving to Hull City and then York before returning to Boston.
But that homecoming brought additional pressures for the centre back.
"I think it did when I first came back as I had played for a couple of bigger clubs and I had more experience than other players of playing in the Football League, so that brings expectations and added pressure," he continued.
"There were also articles in the local papers about me coming back 'home'."
Hocking started all but three of the Pilgrims' 51 competitive games in his first season with the club, beginning with the 2-2 home draw with Bournemouth, where fireworks greeting the Pilgrims into the Football League as the teams came out the tunnel.
"I can really remember this well," Hocking added.
"Walking out onto York Street in front of a packed house being a local lad is a very special memory for me.
"Myself and Anthony Elding, who was also in the squad that day, spoke about this after. It was definitely a goosebump moment.
"The first Football League game against Bournemouth is a standout game but also the 6-0 home win against Shrewsbury in December 2002, which was the biggest win I've been involved with in the Football League."
Hocking suffered injury in his second season with the Pilgrims, at the time Thompson left the club and was replaced by Jim Rodwell, and then Steve Evans.
He never featured for either manager and instead moved on to Conference side Stevenage Borough... although things could have been very different.
"It's always frustrating as a player when you have an injury and you have to watch your teammates train and play without you," he said.
"This is even more frustrating when there is change of manager when you need to impress.
"I do remember signing for Stevenage Borough on a Monday morning at 9am.
"I left my phone in the car that morning and whilst inside Stevenage's stadium signing the papers, Keith Alexander was trying to call me, offering me a deal to sign for Lincoln City in the Football League.
"After speaking to Keith on the phone, Keith decided to call Graham Westley the Stevenage manager and ask him if he could terminate my contract immediately so I could sign for Lincoln City. Westley said no, and the rest is history."
Spells with Fisher Athletic, Southport and Gateshead followed before Hocking once again returned to Lincolnshire.
He joined Ian Dunn as player-assistant at Pinchbeck United before the duo became joint managers at Boston Town, the last gaffers to secure a top-10 finish for the Poachers.
Hocking continues to work in football, enjoying coaching roles with Boston United and Peterborough United, before moving stateside.
"Life in California is great, we have settled in very well and the children think it's fantastic out here," he said.
"The move came about when Steve Myles, one of my coaches at Sheffield United, phoned me a few days after I got my UEFA A licence and asked if I fancied working in California.
"He gave me a few days to make up my mind and then get over there. It only took a minute's chat with my wife Debbie to make up our minds.
"We have been here for three years in June and we hope to hear very soon that we have been granted our permanent residence."
The USA's Pacific coast may feel a world away from York Street.
But Hocking's goal, which ensured the pilgrims went on to enjoy five full seasons in the Football League, defying all the odds, will always be remembered fondly by Boston fans.
It may have been his only goal for the club, but surviving relegation by popping up with a winner is by no means a fluke.
"It is definitely up there with one of the most important (goals I've scored)," Hocking added.
"I also remember scoring a last-minute goal for York City against Brighton away to beat them 1-0 which also helped York City to secure their Football League status. I was actually a substitute that game and came on as a striker for the last two minutes. I managed to score the winner in injury time by lobbing the keeper from 25 yards."