After two draws on the trot with Kimberley Miners Welfare and Newark and Sherwood United, the Poachers had to get back to winning ways as 9th place Heanor Town visited the Mortgages For You Stadium.
The hosts started brightly and played with a fast pace. Nine minutes in, Layton Maddison whipped the ball in and found the head of Harry Limb who header was saved by Leivers, Heanor's goalkeeper.
Throughout the whole game, there weren't an awful amount of chances with only one clear cut chance in the first forty five in the memory but the Poachers controlled the ball and the game well, all they needed was a goal.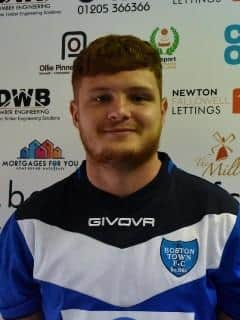 Richard Ford made a fantastic tackle on Heanor's number nine Sleigh in the opening stages of the second half.
Later on, a good run on the left by Fraser Bayliss saw the ball find Marshall Young who's shot seemed to be miss kicked and it went wide, almost coming to Beeson who couldn't do much with the ball.
With just over 15 minutes left, Bayliss came down the left hand side again and crossed the ball in.
Some slopper interchange saw the ball fall to Liam Adams whose effort beat Leivers and went in at the bottom left hand corner. The Poachers led 1-0.
One of Heanor's only chances of the game came in the 83rd minute as Newsham spotted Travis Portas off his line, dinked the ball over but hit the crossbar and went out of play. At full time, Boston Town took the three points with a 1-0 win.
Poacher manager Martyn Bunce said "The first 45 without a shadow of a doubt was the best we've played all year without testing the keeper but created some half chances, but overall a real professional performance, 1-0, and just pleased to get three points really."
The Poachers face Melton Town away on Wednesday and then play 4 teams below them in the table.
Bunce added: "The league is really competitive and I don't think anyone has the divine right to beat anyone.
"We take it one game at a time, we face Melton on Wednesday and then we'll assess the situation on Saturday."