Two-goal Jordan Nuttell typified their fighting spirit as they ultimately overwhelmed their North East Counties League opponents.
The early skirmishes were relatively even, with the visitors carving out some decent chances on a bobbly pitch but Brigg looking lively on the counter-attack.
The hosts went ahead in the semi-final after 22 minutes when a free-kick squirmed past Travis Portas, with Josh Batty claiming the final touch.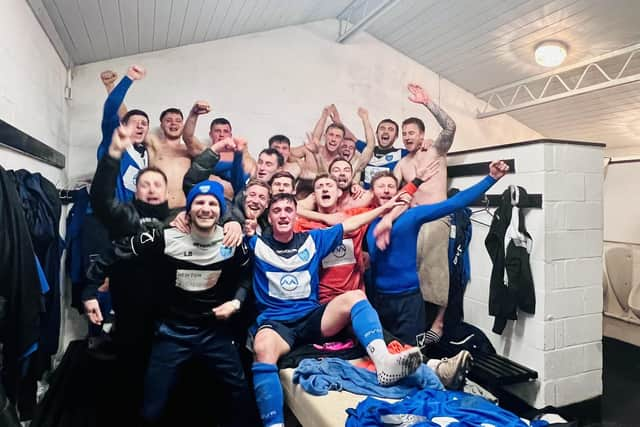 But Nuttell equalised after 34 minutes when he bravely threw his body at a near post cross whipped in by Fraser Bayliss.
Brigg suffered a blow when the pacey Dayle Hutson was forced off with what looked like an ankle injury – and with his absence, the Poachers increasingly controlled the game.
Lee Beeson had taken a little time to find his range early on but began to exert an ever greater influence on the game with his dangerous balls into the box.
As the Poachers increased the pressure in the second half, Nuttell powered home a header on the hour mark to make it 2-1.
Brigg had the odd moment where they looked like they might get back into it but Boston looked generally solid at the back, with Luke Wilson and Richard Ford in commanding form.
A defensive slip in the centre circle allowed Bayliss to break clear after 82 minutes and slot home for what proved to be a decisive goal.
From that point on, Brigg's heads dropped and the Poachers finished with a flourish. Refreshingly, they continued to attack in waves, rather than being content to sit on their lead, with the likes of Tom Mucklin and Jordan Tate surging forward from their defensive lines.
It was a thoroughly satisfying night, particularly given that Lori Borbely had to take over match day duties ahead of the game because of a family bereavement within the management team.
Boston Town will now meet the winners of next week's other semi-final between Deeping Rangers and Skegness Town. The date and venue and the final have yet to be announced.
Town: Portas, Mucklin, J Tate, Adams, Ford, Wilson, Bayliss, Hobbins, Young, J Nuttell (Maddison), Beeson (L Tate); unused sub: Borbely