Boston United boss Craig Elliott calls for National League season to be postponed for four weeks... but questions why it took so long for funding discussions to be held
Pilgrims boss says recalibrating season is 'logical' step...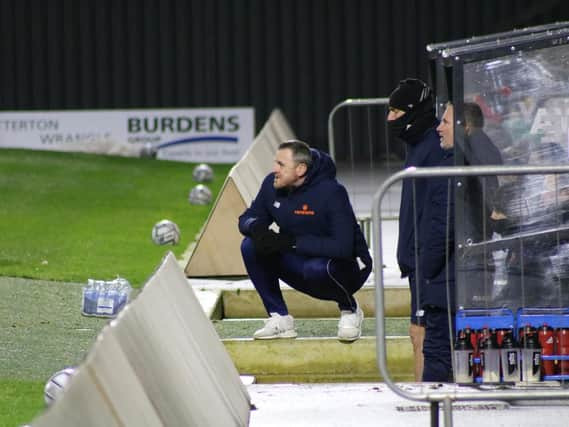 Craig Elliott believes that calling a four-week break to the National League season would be the first 'logical' step in helping the campaign to resume.
Clubs in the North and South divisions - including Boston United - are currently halfway through a fortnight's postponement as funding discussions continue, although action in the top flight continues.
For the Pilgrims manager, delaying matches would allow clubs to get more clarity about possible loan and grant aid and enable teams to prepare properly for the remainder of the campaign.
"In my opinion, it's the most logical thing to happen now," Elliott said.
"If we get a clear start date, give teams three or four weeks from now to get their finances in order and know where we're going then we can have a clear pathway to the end of the season and teams can train accordingly.
"If we postponed the season for four weeks we're getting through the bad weather, teams can know where they're going. The season can set a clear end date, which could be June, and we can be positive.
"The world, as well, will hopefully be in a bit of a better place as well with vaccines and things like that."
Clubs met with Government officials and Sport England of Friday to discuss the loans being made available to teams after the initial £10m of grants from the National Lottery ended in December.
Many chairmen - including United's David Newton - felt they were led to believe grants would be in place until supporters were allowed to return to elite sport.
However, the Department for Digital, Culture, Media and Sport have made it clear that future payments would be in the form of loans, or grants for clubs that would not financially be able to take on a loan.
Clubs have been asked to vote on Monday as to whether they would like the season to conclude or not.
The problem faced by many sides is that they will be putting their thoughts forward without knowing whether they would be eligible for a grant, as applying and obtaining the cash could take around three weeks.
At present, clubs are expecting to return to action on February 6 although a number of sides, including Boston, are not training together at present.
Elliott remains frustrated that the problems surrounding funding have been allowed to drag on this long, with the National League aware the grants ran out last month.
"It's not great to be fair. I think it just goes back to things that could have been dealt with a lot more professionally earlier, and we shouldn't be at this point.
"We should have been having these conversations at the very latest in early December, and we wouldn't be at this stage. The National League hasn't been as professional as they should be here.
"If you make decisions then people get on with it and know where they are. Things are rumbling on and it just creates more anxiety."
Seventeen clubs from the North and South division issued a statement on Thursday calling for the season to be curtailed, citing their fears of taking on loans and health concerns caused by the pandemic.
United, however, called for the campaign to continue via a statement issued by Mr Newton.
"I was interested to see that as a chairman and, as a club, we had a different tact to most that you're reading on social media," Elliott added.
"it was good, it opened debate and helped people see the other side.
"I also get the other side, that some teams wouldn't have started the season if this was happening, and that again has been the biggest problem, the communication (from the National League).
"I'm in full support of what Dave's put. I hope teams can find a way and finish the season."
Elliott added that his squad are desperate to return to action.
He said: "Ultimately, we just want to play football. I spoke to every player Thursday and Friday explaining the situation - there's lost of speculation going around, so it was about touching base with players and telling them the truths, what we know at this stage.
"They're telling me the hardest part is getting around it mentally. They don't know what's happening.
"We should have a clear start date and pathway or - the very worst case scenario - tell us we're not playing and we can get our heads around it."