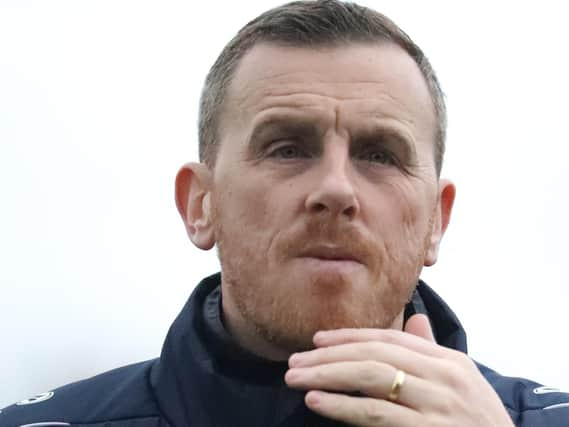 Craig Elliott concedes that there are a 'lot of obstacles to overcome' if clubs from the National League North and South are to resurrect their seasons.
However, the Pilgrims boss is adamant about one thing if action was allowed to resume - that any new league begins from scratch.
Proposals for a supplementary competition for North and South clubs will be put forward following a meeting with the National League last night, it has been reported.
The Standard understands that some clubs want the results from the normal league season between sides who wish to play on to be transferred.
But with that competition already being declared null and void, Elliott believes any new league must be a level playing field for all.
"I think if anything happens you have to (begin again), otherwise why would any other team join in?" he asked.
"If it's a new competition then you have to start from scratch in my opinion."
This proposed North and South League is being backed by clubs who launched the Let Us Play campaign after the regular season was axed following a vote by member clubs, although teams who voted to null and void the season could be invited to show an interest.
It is hoped that a promotion spot - or more - will be up for grabs.
The National League is running a team short at present due to the demise of Macclesfield Town. Creating a competition with one promotion place available could be a way to return non-league's top flight to its full quota of teams without the threat of relegation for those sides playing on.
Were a supplementary competition given the green light further hurdles, such as arranging fixtures and agreeing on the amount of times clubs played one another - which may be a point of debate given the potential advantages home teams gain with longer travelling distances - would have to be cleared.
"I still think there could be a lot of obstacles to overcome," added Elliott.
"As far as I know, it'll be with the FA and league to decide where it goes.
"As we've seen, clubs have their own agendas and their own ways they see things going. We'll see if the FA can work their way through that.
The longer it takes for a decision to be made, the less likely any further action taking place seems.
Despite admitting to being 'bored' without football, Elliott remain sceptical that the proposed competition will go ahead.
"We were obviously extremely disappointed we couldn't finish what we started in this campaign," the Pilgrims boss added.
"We're ambitious and want to get promoted but the more days that tick on, it's becoming more difficult to see things happening.
"There's a lot to overcome and there's an element of, if we look at next season, we can see some light, positivity and the chance to start afresh.
"(If we play) it's got to be in the right circumstances. We're waiting to see what's proposed."
MORE PILGRIMS: Contributions sought for fanzine