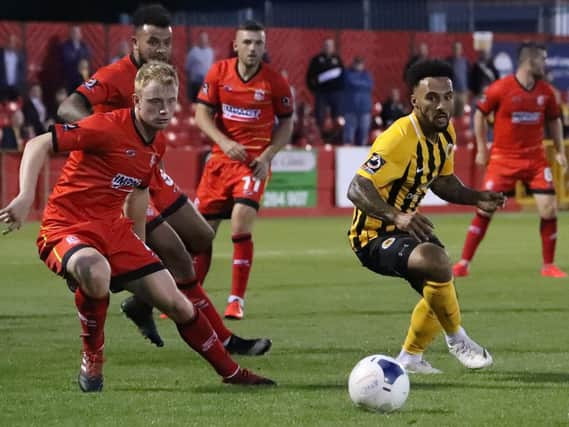 The Pilgrims will travel to face the Brakes on Tuesday, October 6, hosting Guiseley four days later in their first home contest of the campaign.
Festive action will see Boston host Alfreton Town on Boxing Day and make the return visit to the Impact Arena on January 2.
The Pilgrims will conclude their campaign at home to Curzon Ashton on May 29.
Saturday, Oct 3 - Emirates FA Cup 2Q
Tuesday, Oct 6 - Leamington A
Saturday, Oct 10 - Guiseley H
Wednesday, Oct 14 - Emirates FA Cup 3Q
Saturday, Oct 17 - Bradford Park Avenue A
Saturday, Oct 24 - AFC Telford United H Emirates FA Cup 4Q
Saturday, Oct 31 - Southport A
Saturday, Nov 7 - Chorley H/Emirates FA Cup 1
Tuesday, Nov 10 - Darlington A
Saturday, Nov 14 - AFC Fylde A/Buildbase FA Trophy 1
Tuesday, Nov 17 - Kettering Town H
Saturday, Nov 21 - Spennymoor Town H
Saturday, Nov 28 - Blyth Spartans A/Emirates FA Cup 2
Tuesday, Dec 1 - Gloucester City A
Saturday, Dec 5 - Buildbase FA Trophy 2
Saturday, Dec 12 - Chester H
Saturday, Dec 19 - Buildbase FA Trophy 3
Saturday, Dec 26 - Alfreton Town H
Monday, Dec 28 - Farsley Celtic A
Saturday, Jan 2 - Alfreton Town A
Saturday, Jan 9 - York City H/Emirates FA Cup 3
Saturday, Jan 16 - Gateshead A/Buildbase FA Trophy 4
Saturday, Jan 23 - Brackley Town H/Emirates FA Cup 4
Saturday, Jan 30 - Hereford H
Saturday, Feb 6 - Curzon Ashton A/Buildbase FA Trophy 5
Tuesday, Feb 9 - Kidderminster Harriers H
Wednesday, Feb 10 - Emirates FA Cup 5
Saturday, Feb 13 - Guiseley A
Saturday, Feb 20 - Leamington H
Saturday, Feb 27 - AFC Telford United A/Buildbase FA Trophy Semi-Finals
Saturday, Mar 6 - Bradford Park Avenue H
Saturday, Mar 13 - Darlington H
Saturday, Mar 20 - Chorley A/Emirates FA Cup 6
Tuesday, Mar 23 - Kettering Town A
Saturday, Mar 27 - AFC Fylde H
Friday, Apr 2 - Spennymoor Town A
Monday, Apr 5 - Blyth Spartans H
Saturday, Apr 10 - Chester A
Tuesday, Apr 13 - Gloucester City H
Saturday, Apr 17 - Southport H/Emirates FA Cup Semi-Final
Saturday, Apr 24 - Kidderminster Harriers A
Saturday, May 1 - Farsley Celtic H
Monday, May 3 - York City A
Saturday, May 8 - Gateshead H/Buildbase FA Trophy Final
Saturday, May 15 - Brackley Town A/Emirates FA Cup Final
Saturday, May 22 - Hereford A
Saturday, May 29 - Curzon Ashton H