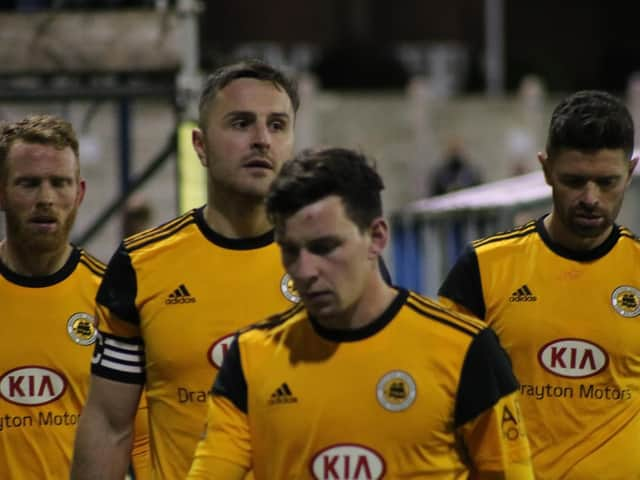 Boston United manager Craig Elliott believes his squad will be facing an energy-sapping schedule to complete their league season.
The Pilgrims are currently in isolation for a two-week period after a positive Covid-19 test was announced on Saturday morning, forcing the club to postpone three matches.
This is the second time the squad have been forced into isolation due to positive tests this season.
They now look set to be able to return to action on November 28, when they are due to travel to Blyth Spartans.
But Boston - who have only played four National League North matches to date this season, while some rivals have completed twice as many - will then have 38 league matches to fit into a 25-week period before the campaign ends on May 29.
Throw in a good FA Trophy run or a handful of further postponements and United could be looking at a tight schedule to conclude the campaign.
As well as having less time to work with his squad on the training ground, Elliott believes the gruelling fixture list could also take it toll, especially as players are asked to travel to matches and training alone to avoid contact wherever possible during the pandemic.
"It's going to be a long season with so many games left to play, straight away we're looking like playing twice a week for the games now," he told The Standard.
"I read things and see Premier League managers moaning, but it's the same for these lads. These lads have got jobs as well in non league.
"It's going to be difficult. The travelling takes its toll and it's not just the physical side, it's the mental side as well.
"You're on the road a lot, driving to training and matches - getting home at 2.30am and you don't sleep because of the adrenaline.
"Some of these lads get up for work at 5am, 6am. You can manage that short term, over a two week period.
"But over a period of five or six weeks it's always going to catch up with players. I'm sure the players aren't asking anyone to feel sorry for them, but it's how it is."
With the season not kicking off until October - two months later than usual, due to the knock on effect of the pandemic - action was always going to be condensed.
But two fortnights of self isolation, two postponements at Bradford Park Avenue due to floodlight failure, a blank weekend because Chorley's FA Cup involvement and an 87th-minute abandonment at Darlington have only made things tougher for Elliott's side.
A spell of bad winter weather could also have a knock on effect for matches.
The Pilgrims are one of five teams who finished the weekend having played only four league matches.
And Elliott believes that if things continue in the same vein, action may need to be taken by the National League to ensure fixtures are completed.
He added: "You'd like to think that the (current) plan will be okay if things stay as they are. But you can only see more interruptions.
"We've not had an opposition team have it yet (forcing a postponement), and you've got to think that's going to happen at some point.
"If it carries on for the next couple of months, then it's inevitable things will have to be changed and adapted.
"But personally, I don't know what the answer is."
Despite the bizarre start to the campaign, Elliott added that spirits in the camp remain high.
"It's all about keeping the right habits and making sure we're ready," he added.
"The only problem is that when it's stop-start you can pick up more injuries that way."